Big savings on fuel and impressive emission cuts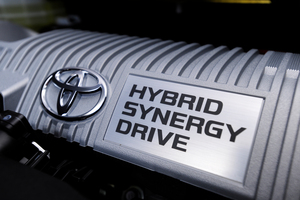 As Toyota announces that five million hybrid vehicles have been sold in 80 countries throughout the world, New Zealand motorists are also embracing the technology with record sales in this country.
Toyota says that in the last 11 months it has sold a record-breaking million hybrid vehicles globally, bringing the world total of hybrids sold to 5,125,600, including 50,000 in Australia and 5500 in New Zealand.
The five million-plus hybrids sold have saved about 12 billion litres of petrol and led to around 34 million fewer tons of CO2 being emitted compared with petrol-powered vehicles of similar size and driving performance.
After releasing its first hybrid vehicle in Japan in 1997, Toyota took almost 10 years to reach one million sales, however, demand for the environmentally friendly vehicles has increased exponentially ever since. They now account for 14 per cent of Toyota's global vehicle sales.
In New Zealand, Toyota's hybrid sales last year totalled 1222, 25 per cent more than the 970 hybrids sold in 2011 and double 2009's 523.
Interest in the hybrid vehicles, especially from corporate clients looking for a more sustainable, cost-effective fleet, is growing, said Toyota New Zealand's general manager of sales, Steve Prangnell.
"Although 5500 hybrid vehicles sold doesn't sound like a lot, proportionally it's about the same as countries such as Australia, Canada and England," he said.
"Our hybrids are now mainstream with such a strong uptake of the technology by customers - especially now that the cars boast fantastic performance on top of great fuel efficiency."
In New Zealand, the most popular Toyota hybrid is the Prius, followed by the Camry hybrid, which is manufactured in Australia.
Hybrid options are also available for the Lexus range, with CT, RX, GS and LS hybrid models available to Kiwi customers.
Prangnell said Toyota has developed hybrid technology as one of its core technologies for the 21st century and is working to further raise performance, reduce costs, and expand its environmentally friendly product line-up.