Daihatsu leaves the Kiwi market - but our fan of the brand can't say goodbye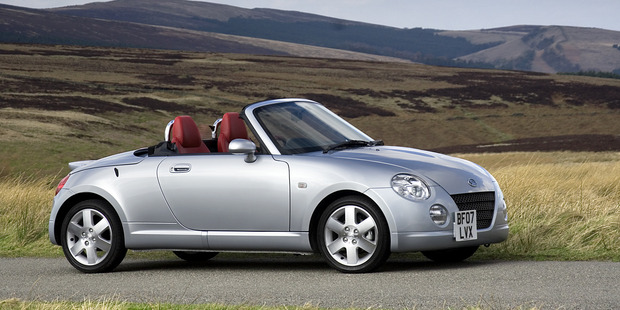 With the announcement from Toyota New Zealand that Daihatsu is being dropped from the local market, I would like to say that I will miss this quirky Japanese brand.
But that's not strictly true. I've been missing it for many years now, because Daihatsu hasn't been quirky for the best part of a decade now.
I'm a former Daihatsu owner and certainly used to be a brand enthusiast. I've endured a huge amount of humiliation from my colleagues over the years because of it. So one more time for the road can't hurt, right?
In some respects, Daihatsu has always been your typical kei-car maker, producing tiny vehicles for the Japanese domestic market and being a bit weird about it at times. But in the 1980s and 1990s it also had ambitions of succeeding in important export markets, especially Europe, and it made some interesting and acclaimed cars.
The Charade was chief among them, especially the GTti hot-hatch version of the third-generation Charade (1987).
Poke fun at the Terios (1997) if you must - I certainly have, as I nearly rolled one at a press launch during a low-speed cornering manoeuvre - but it did anticipate the trend for teeny-tiny off-road-type vehicles.
My own enthusiasm for Daihatsu was sparked by two cars I drove while working in Britain. The first was the Avanzato TR-XX, a mad four-wheel-drive turbo version of the tiny Mira that was sold in Europe - as a bit of a joke really. The car magazine where I worked in 1998 had one as a long-term test vehicle and it was perfect for London. It was also a traffic-stopper, as Brits had never seen anything like it.
The second was the Sirion, launched in 1998. I'm talking about the goggle-eyed model with the weird retro styling, which was sold in Britain with a sweet three-cylinder engine. It was cheap but very cheerful. Good fun and pretentious. I bought a brand-new Sirion GTVi in 2001, after I returned to New Zealand. It was based on a Toyota Echo platform, but was so much more fun - not least because the GTVi's 1.3-litre engine sported a unique variable valve timing system and a redline raised to 7700rpm (more if you dared, which I often did). The engine was brilliant, the manual gearchange precise. Kind of wish I still had it: ZT2755, where are you?
The managing director of Daihatsu New Zealand at the time was Murray Hart. He raced a 700cc Sirion turbo with four-wheel drive that had an obscene amount of power: over 120kW as I recall. I once swapped him a drive around the block in a BMW M3 I had on test for a fast blast in his Sirion. Bargain.
You might remember the tall-roof YRV hatchback, which was also available with a turbo and massive glass roof - only used imports made their way here. Or the minuscule Copen roadster with the folding roof, which was ridiculous in many respects and far from great to drive, but never took itself seriously enough for that to matter.
Daihatsu: good times. So what happened? I reckon things went downhill when Toyota took control in 1999 (until then, the two companies had an alliance). Mainstream Daihatsu models basically became budget versions of Toyota cars. Even the likes of the Materia, which was interesting to look at but desperately ordinary underneath.
The current - well, now-defunct - Sirion is a prime example of the problem, being little more than a rebodied previous-generation Yaris.
The last Charade of 2003 - really a rebadged Mira/Cuore - was a neat little thing, with its three-cylinder engine and manual gearbox. But it was too small to make an impact and in reality it was a rather cynical attempt to cash in on a name fondly remembered by Kiwis and Australians. The last proper Charade was made in 2000.
Daihatsu withdrew from Australia in 2005. It disappeared from Europe last year. Now it's gone from New Zealand, as the Japanese brand focuses on cheap cars for emerging markets and away from models that must meet the latest emissions regulations. Falling sales in export markets - due to customer taste and the strength of Japan's currency - haven't helped. A belated goodbye, then.