The top 10 chosen from 70 years of manufacturing cars across the ditch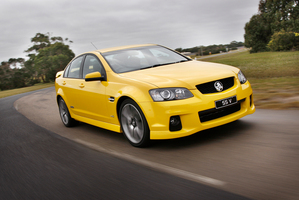 Holden's VE Commodore has been voted by influential motoring magazine Wheels as the best car ever built in Australia.
Introduced in 2006 and with what the judges describe as core virtues of strength, spaciousness and sophistication, the Commodore took the award ahead of the Ford Territory, launched in 2004, and the BA Ford Falcon XR6 turbo, launched in 2002.
Wheels said though the VE Commodore had its faults it deserved to be at the top of the pile for its design, engineering, value and versatility.
"More than a good honest car, this was the Commodore that proved, beyond doubt, that Australia's got talent," the judges said.
They also favoured modern Australian cars in their top 10, although the original Holden from 1948 was ranked seventh and the 1934 Ford Utility sneaked in at number 10.
Also in the top 10 were the revamped Holden Monaro from 2002 in fourth spot and the legendary 1966 Ford Falcon XR GT at five.
The only non-Ford or Holden to make the cut was the 1971 Chrysler Valiant Charger.
Wheels said its winning vehicle had to be worthy of the title "great", not just when it was built but also in 2013. "Some old cars made the list, but the fact is that we're making the best cars we've ever made right now, and those cars are truly world class," the magazine said.
For its 60th anniversary, Wheels also considered what cars may be like over the next 60 years and found models that drive themselves could be just around the corner while electric and hydrogen-fuelled vehicles are poised to dominate the market: "In another 60 years' time cars that run on petrol and even the idea of the ubiquitous service station will be quaintly laughable."
- AAP