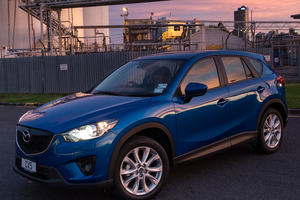 Like many Baby Boomers, Allan is after a change in vehicle to cope with his change in lifestyle.
"I'm looking to upgrade my Mazda6 to something new, and as this will be my last new car, I want something that will last," says Allan.
He's keen on the popular crossover/mid-size SUVs, such as the Mazda CX5, Nissan Qashqai, and Mitsubishi Outlander.
"I need something that will fit in my carport - I want to be able to get the shopping out from the boot, not have expensive tyres and enough room for the grandkids," he says.
This won't be an easy decision for you, Allan. Not because of the lack of vehicles. In fact, the dead opposite applies as you have selected the most popular market segment and named some of the best vehicles currently available in your price range.
You could also add the all-new Toyota's RAV4, Honda CRV and Hyundai ix35 to the list.
If your carport is not overly large, it may well come down to exterior length, width or height, so some prep work before facing sales staff may help you stay focused on your non-negotiable requirements.
All the vehicles you will be looking at will have the major safety and comfort items covered.
They will all also have some unique features that sales staff will focus on as clear points of difference and reasons to purchase their products.
You will need to decide whether these are actual benefits or simply extras that you don't really need or would never use. Auto-folding exterior mirrors, for example, may be a must in your case if parking space is tight. To keep things simple, comments below are based on models fitted with petrol engines, front-wheel-drive only and hover around the $40K mark.
The budget: $40,000
Mazda CX5 GSX
Certainly the motoring journos' favourite in 2012 with the CX5 picking up numerous awards, including Driven's Car of the Year, with its styling, comfort and all-new SkyActiv technology. Free three-year/100km (whichever comes first) servicing is an extra bonus. The best long-term testing ground for the new, unconventional, high compression petrol engine (6.4l/100km combined fuel consumption) will be the motoring public.
Nissan Qashqai Ti
Armchair comfort for front seat occupants and minimal interior road noise are some of the standout features. The CVT transmission works well and helps what is basically an uncomplicated petrol engine achieve good all-round performance and economy (combined 7.6l/100km).
Mitsubishi Outlander LS
The all-new Outlander follows on from the previously very popular model with the latest refresh coming at a time when it did need to lift its game to stay in contention. Enhancements include a claimed 13.2 per cent improvement in fuel efficiency (6.6l/100km) over the previous model. Mitsubishi's new-car warranty programme (up to 10 years/160,000km) is hard to ignore for those planning on long-term ownership.

Driven recommends
No bad choice, to be honest. If you get a positive feeling about the product, the dealership and the staff, then that could make the difference when it comes time to signing a sales agreement and is worth paying a little extra for.