V8s and fat pies tempt petrolheads at Pukekohe this weekend, writes Alexia Santamaria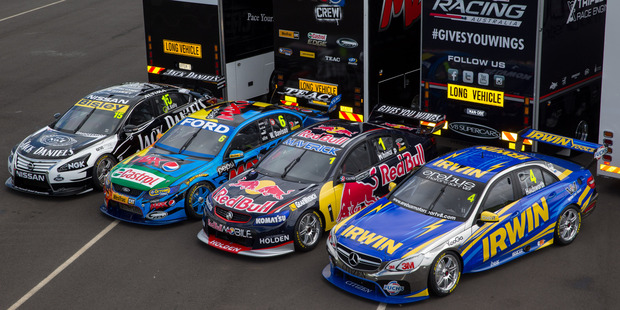 You know your kids don't get out of the suburbs enough when you're on a southbound train just past Papakura and one of them shouts, "Is this Hamilton?"
This happened last week on our sneak preview of the fan trail set up by Auckland Transport and Auckland Tourism, Events and Economic Development for the V8 Supercars ITM 400 Auckland in Pukekohe next weekend.
Yes, we went to Pukekohe by train. Harder than you may think considering there are usually no direct trains out there at weekends (we did this midweek). But that will change when the big cars come to town and trains will run every 15 minutes for the duration of the V8s, from Friday to Sunday, April 12 to 14. Good news.
The train journey was lovely. Plenty of action for the boys as we passed Westfield and Otahuhu stations and saw towering stacks of containers, diggers and trains being washed down. And there was plenty of serene countryside and surprisingly green pastures past Papakura for me. No, boys, not Hamilton, but very pretty indeed.
At Pukekohe Station we got out and crossed the new bridge which lands you smack at the start of the fan trail that will be running when the V8s are racing.
Fan trails are a bit of a thing since the Rugby World Cup and I think they're great. It's fantastic to have a carnival atmosphere around and not have to bother with finding a parking space.
If, like some of us, you're not overly into cars (I'm certainly no petrolhead) it means there's something for everyone to enjoy.
First stop on the trail is a balloonist for the kids, and, mercifully, coffee, which you'll need if you're doing the morning trail. A photo booth for pics with the lovely "Auckland Girls" and a pie stop reminds you it is the V8s after all.
The balloons have been designed especially by Les of Balloon-a-Trix and are very cute red Holden and blue Ford designs. Bit more exciting than the usual dogs and rabbits; my two were delighted with theirs.
At this point I must talk further about pies as Jesters' Pukekohe branch is putting out two special fillings for the V8s. It's genius, actually, as each is a meal-in-one. One is breakfast, and I'm talking a full, big, breakfast (bacon, eggs, baked beans, chorizo and hash browns) in a pie; and the other is more dinner (wild pork, watercress and mashed kumara). No time for sit-down meals with cutlery when you've got big, noisy cars to see.
It would have been rude not to sample them and they were pretty good. The kids particularly liked the V8 baked on top. Actually, it seems Puke is a bit of a pie capital aside from the lovely Jesters, with Target Bakehouse (231 Manukau Rd) and Greenland Cafe (28 Subway Rd) winning medals in the recent pie awards.
After these essential stops it's onwards for the 1.4km walk from the station through the shops and carparks to Subway Rd, down to Manukau Rd to the circuit. There will be 14 stops, including the Ford convertible show; muscle cars; face painting; pit stop challenge; big screens; kapa haka; cheerleading; bands (in the evenings) and car simulators. Needless to say these weren't all in action on our preview but our walk around gave us a good idea of how the space will look and what kind of atmosphere it will have. Even I was excited. It's going to be a great buzz.
The Moto Mayhem sounds particularly impressive with Subway Rd closed off for a period so everyone can stare open-mouthed at crazy Motocross stunts ( how do you learn to flip a motorbike without killing yourself?)
We tried out the Sim Sity Car Simulators, run by some very friendly locals who love their cars. The boys were my co-drivers as I gave it a whirl for a couple of laps. Probably won't be leaving journalism any time soon to be a race driver - "Mummy, you crashed - again!" - but it was good fun and will be an excellent activity on the fan trail.
We had a lot of fun just on the preview. Car fans, you'll be there anyway; but those being dragged along, never fear: Pukekohe is turning it on for all ages, stages and levels of interest.

Wheely good deal
You can travel free on event buses or trains with your re-purchase ticket holders (April 12-14).
From the North Shore, special buses leave from Albany around every 15 minutes from 5.30am to 10am, stopping at all Northern Busway stations then express to Pukekohe, returning from 5pm until 90 minutes after the finish of the last event (just show your ITM 400 Auckland ticket).
Southern Line trains run every 15 minutes to the Pukekohe Rail Station (again, present your ITM 400 Auckland ticket).
Travel early to avoid possible delays because of heavy usage; mobility shuttles from train and special event bus stations by request. Check at.co.nz; ph (09) 366 6400.
V8 Supercars ITM 400 Auckland tickets start at $30 (plus fees). Three-day general admission tickets start from $110 (concession $100) or from $75 per day for Saturday or Sunday (concession $65), kids under 12 free with paying adult; additional Paddock Pass $15; grandstand from $145 to $250.
For event information click here.