Pork Pie run raises thousands, writes Paul Charman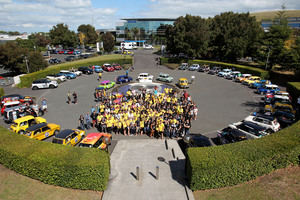 "It amazes me how much you lot spend on your roads for so little real outcome," says the owner of the Centennial Court Motor Inn, in Alexandra.
Shayne was commenting after hearing tales of the near Warkworth-to-Pokeno Easter gridlock the 2013 Pork Pie charity run encountered in its earlier stages.
I could have told the friendly Southlander that, having driven the entire length of the country (close to 2500km in this Mini fest) it was obvious to me why Aucklanders need almost all the road maintenance money.
Answer: We have all the vehicles.
Most days on the Mainland it seemed they could only muster three cars, two trucks and 200 campervans to drive alongside.
Okay, allowing for hyperbole, that's about all I can recall sharing the roads with during the happy blur of Mini driving over the past six days or so.
So far we've raised about $170,000 for Leukaemia & Blood Cancer New Zealand; fixed just about every mechanical frailty of the classic Mini (manufactured from 1959 to about 2000) and attracted lustful stares from men and women who fancy our new Mini - a 2013 Mini roadster, kindly provided by BMW Group NZ.
But that covetousness wasn't the biggest impression left following the run, which sticks to the route of the iconic 1981 Kiwi movie Goodbye Pork Pie - Kaitaia to Invercargill via Auckland, Taupo, National Park, Whanganui, Wellington, Picton, Kaikoura, Christchurch, Greymouth, Hokitika, Hari Hari, Alexandra and Dunedin.
In what could be an equally primal response, there was an almost universal gushing-over-the-new-baby reaction to the little classic Minis that made up most of our 47-strong fleet.
Kids through to old timers (all grinning) came out of the woodwork at every stop, chatting and getting photos on mobile phones. The little classic cars, which these days need so much in the way of running repairs (nappy changes) at the side of the road, are apparently as "cute" to people as the baby seals we encountered cavorting in a waterfall-fed pond, close to the Main Highway at Ohau, near Kaikoura.
If I've stumbled upon a new psychological truth, I suppose I can run it past the clinical psychologist who did the charity run with his son as a co-driver. There was an amazing breadth and mix of professions among these Mini- fancying types: welders, teachers, engineers, farmers, mechanics and folk from the auto trade...
We seemed united round a common love of these little cars, combined with our mission, which was spreading a little joy, waving, tooting and - once in a while at the appropriate time - cutting loose with water pistols.
And the result of this harmless mobile nonsense has been to help folk who, due to cancer, really do have serious things to deal with.
One of our Pork Pie charity run crew was a young woman recovering from chemotherapy, a delightful person with a story to tell.
Co-organisers of the charity run, Murray and Annie Hemsley, say those taking part may actually have racked up close to 3000km, once they got home to various parts of the country.
It costs crew members $3000 or more of their own money to take part.
"I was expecting closer to $100,000 to be raised this year, considering the economy," says Murray.
"Instead we've been bowled over by people's generosity, and we've been told it will make a huge positive difference to Leukaemia & Blood Cancer New Zealand. The other memory we'll take away from the Mini run is how these folk have helped one another, by repairing cars and so forth. There doesn't seem to be any cliques among them, they're like a big family."
Donations
You still have a chance to donate to the event, go to porkpie.co.nz