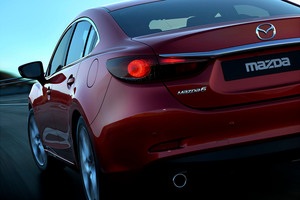 They say timing is everything - and within weeks of the New Zealand launch of the new Mazda6 sedan, a global recall has been announced.
A fault inside an electrical component could potentially cause a fire inside the car, sparking the recall of 15,000 cars worldwide. The problem has reportedly caused two car fires, one in Europe and another in Australia.
There are 44 Mazda6 models in New Zealand that are subject to the recall, which relates to a potential fault in a condenser inside a DC/DC converter, which is sited under the car's front passenger seat.
All 44 cars have already been recalled by Mazda New Zealand for a free fix, and all repairs will be completed by mid-April.
The DC/DC converter is part of the clever new i-ELOOP energy regeneration system, which uses a powerful capacitor for short-term energy storage and to feed extra power to systems like air conditioning, reducing the load on the battery and alternator, thus saving fuel.
Mazda is quick to point out that the fault is not linked to the i-ELOOP system itself.