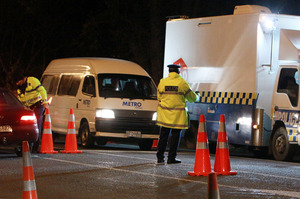 In a significant u-turn, the Government is now pursuing plans to introduce random roadside drug-testing.
The Government released its Safer Journeys Action Plan 2013-15 yesterday, which said it would carry out research on drug testing techniques.
"Our aim is to move New Zealand towards a robust, cost-effective approach to random roadside drug screening and testing as soon as practicable and justified," the report said.
The plan also outlines proposals for new blood alcohol limits and getting old and unsafe cars off roads.
Last year, then-Associate Transport Minister Simon Bridges said the Government had decided not to introduce random roadside drug testing because saliva tests weren't sufficiently reliable.
Yesterday, new Associate Transport Minister Michael Woodhouse said the ministry would investigate changes in drug testing technology over the four years since drugged-driving laws were introduced.
Mr Woodhouse yesterday said the ministry had not decided what technology would be used but it could include improved saliva technology.
At present, police test drivers' blood for drugs only if they believe they are under the influence, following an impairment test.
Since the drugged driving legislation was introduced in 2009, 583 people have been charged.
A recent Ministry of Transport study found more than half of drivers taken to hospital after causing a crash had drugs in their system.
The AA backed the move to random saliva tests - which are used in every state in Australia.
AA motoring affairs general manager Mike Noon said: "We're very supportive of increasing the focus on impaired driving to include drugs."
The Government's action plan also includes proposals for different blood alcohol limits for different drivers, such as commercial drivers, drivers with a conviction, and drivers with a certain number of demerit points, as well as for various age groups.
Labour's transport spokesman Ian Lees-Galloway said the Government should hurry up and lower the blood alcohol limit.
"Its focus groups have told it some people would have a problem with reducing the limit to 0.05 mg/ml so it ran scared. Now it wants to side-step the issue with a complicated system that attempts to target specific drivers."
Mr Woodhouse said the Government would be able to decide early next year whether blood alcohol limits should be reduced.
- APNZ