Jacqui Madelin found this year's Variety Bash on tour in Canterbury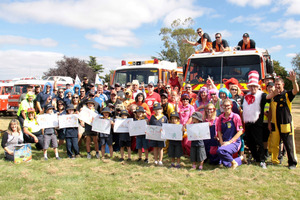 There's nothing like a riot of clowns tumbling from quirky cars or a fire-engine foam fight to bring smiles to kids' faces, and it was smiles the Variety Bash was after when the troupe toured schools in Canterbury's hard-hit earthquake zone this year.
The mostly volunteer participants raise about $100,000 between them each year, with this Bash distributing over $72,000 in grants to sick, disabled or disadvantaged kids from Waiouru to Akaroa.
Special needs students receive iPads; bedspreads for Ronald McDonald House; a Ford Sunshine Coach for Birthright, a group assisting single mothers; money for glasses or special lessons; books and footballs; it all brightens days but it was the Liberty Swings that really touched hearts.
Ordinary dads and mums with a petrolhead streak and - vital to the spirit of the Bash - a robust sense of humour were reduced to tears seeing severely disabled kids normally barred from the playground at last feel that weightlessness riding a swing brings - their delighted smiles enough to keep Bashers fund-raising year after year.
Driven rode aboard the Coffee Medics fire engine, a 1978 Commer RB13 Highline with a body made by Mills Tui in Rotorua and a 5.8-litre Perkins turbo diesel that saw service in Orere Point until Todd Forsyth bought it - and fitted it out with Breville coffee machines and a stash of Jungle coffee, firing up a brew in exchange for donations wherever the Bash stops.
Now a veteran Basher, Forsyth keeps on coming because "the smiles on the kids faces won me over - and the opportunity to make a difference to the lives of some kids keeps me coming back".
That, and "Every kid loves a fire engine; I'm just a big kid and the Bash gives me the opportunity to act like one for a week!"
The fire engines have working tanks and hoses, "plus a salvage pump in the side locker for squirting on the move".
This year's Bash is on You Tube - find the clips or make donations via variety.org.nz.