Plum pickings for collectors at Melbourne auction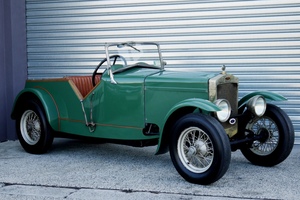 A private collection of vintage sporting cars - including a chain-driven Frazer Nash that took part in the first Australian Grand Prix meeting at Phillip Island in 1928 - is a special highlight of Shannons Melbourne April 29 auction. Keen international bidding is expected.
The vehicles belonging to lifelong Victorian Sporting Car Club competitor Ted Hider-Smith also include four early 1920s chain-drive GN specials (two in "project" condition), a rare and very desirable 1929 Riley 9 Brooklands Sports and two Morgans - an "as new" 1984 Triking Morgan Replica 3-Wheel Roadster and a 1937 Flatnose Morgan Roadster.
One of the two GN Morris specials in the auction is Hider-Smith's famed hillclimb vehicle, which features a unique twin carburettor conversion to a Morris Cowley engine, chain drive for the rear wheels via a bevel box, a Ford front axle with a transverse spring and Ford front brakes and wheels.
Hider-Smith's other GN hillclimb special also features a four-cylinder Morris engine, but has a three-speed Morris gearbox and chain drive.
The remaining two GNs are both "projects", one fitted with a Morris engine and the other with an early V-Twin.
Undoubtedly one of the stars of the auction for Grand Prix historians is Hider-Smith's early Anzani-engined, chain-driven Frazer Nash that took part in the first Australian Grand Prix meeting in 1928.
Driven by Ed Cooper, the car was forced to retire during official practice when its rear axle moved, causing its brakes to become inoperative.
Another of Ted Hider-Smith's cars certain to attract lively international bidding is his 1929 Riley 9 Brooklands Sports. With only 100 of these produced from 1928 to 1932, the model quickly established itself as one of the most successful racing vehicles of its time, making surviving examples sought after by collectors and vintage enthusiasts worldwide.
Also rare is the Triking three-wheeler. Replicating a classic, 1930s' Morgan three-wheeler, the Motor Guzzi-engined Trikings were built in England during the late 1970s and early 80s.
The example to be auctioned is one of three imported new to Australia but, through an anomaly in Victoria's Motor Car Regulations, they could not be registered because they did not have a reverse gear.
This vehicle has only delivery miles recorded on its odometer and is in every way a new car.
A"flat-rad" Morgan 4/4 is another sought-after pre-war car from the Hider-Smith collection.
Also in the same auction, but not from the Hider-Smith collection, is a 1921 French T H Schneider 4.5-litre six-cylinder Tourer, still fresh from an older restoration.