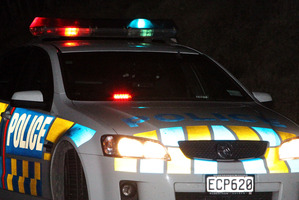 A Hawke's Bay woman has been left in a coma after a car travelling in a boy racer "chain" crashed on Saturday morning.
The 21-year-old woman is in a critical condition after the car she was a passenger in lost control on a bend and crashed into a power pole on Te Mata-Mangateretere Rd.
The crash happened on the outskirts of Havelock North at about 1.50am on Sunday.
There were four other people in the car, being driven by her 22-year-old brother.
The car was travelling as part of a boy racer "chain", and was trying to pass another car when it crashed, police said.
Speed was a "major factor" and it appeared that only the driver was wearing a seatbelt.
The injured woman is in a coma Hawke's Bay Hospital's intensive care unit while one of the other passengers suffered moderate injuries.
Two other passengers and the driver received minor injuries.
The accident is the second boy racer crash in Hawkes Bay in the last two weeks.
Maree Shafer, 18, died on February 19 when the car she was in crashed on Sandy Rd in Meeanee during a high-speed race between boy racers.
Police have criticised boy racers, who meet up in Napier every Friday night and form "trains" or "chains" of up to 50 cars, which often race each other.
Sergeant Clint Adamson said the boy racers were putting their lives, and the lives of others, at risk.
"It's time for these so-called car enthusiasts to take a long hard look at themselves and their driving behaviour. They are making extremely poor driving decisions that have a huge impact on everyone in their vehicle and on the roads.
"They need to take responsibility for their actions and realise that their version of having a good time is killing people," Mr Adamson said.
Police are also concerned about the attitude towards wearing seatbelts.
"If you're not wearing a seatbelt, you put your life at risk, especially in these types of situations. It's a real concern that these young people are willing to risk their lives for a bit of fun and excitement."
Mr Adamson said it was time boy racers took responsibility for their actions.
"This is the second serious crash involving boy racers in two weeks. One person is dead and another is fighting for her life. How many more people have to die for them to get the message?"
- nzherald.co.nz