Big, brutal, fast and noisy ... meet the monster Merc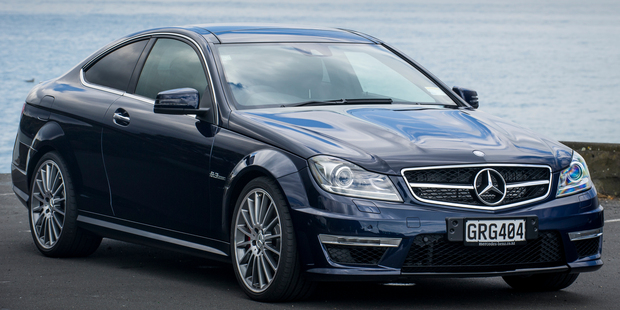 "How to make a monster baby, how to get it on," growls Rob Zombie, but even with his grisly string of horror movie credits and gore metal hits, he hasn't quite got the same grasp on the monster-making concept that the boffins in Mercedes-Benz' skunkworks tuning arm, AMG, do.
We're all aware of the German penchant for over-engineering and these guys have a tendency to go a bit overboard.
Even electric cars haven't escaped AMG's attention, with the jaw-dropping unveiling of its SLS AMG ElectricDrive at last year's Paris Motor Show - 1000Nm, 555kW and a benchmark that's almost unobtainable for other battery-powered car builders.
AMG has a history of making big, fast petrol-powered cars into outlandish rocketships, with either the addition of a large V8 engine or forcefeeding.
We at Driven appreciate this approach as the sound of a V8 smashing past 7000rpm before barking out a backfire barrage on the upshift before doing it all again is a musical joy - so much so that Simon Cowell wouldn't have a chance of recognising it.
So Mr Zombie may have some serious cred among the inked and pierced, but AMG knows exactly how to make a monster, er, baby, and anyone with a right foot will quickly figure how to get it on, whether they really meant to or not.
A week with the C-Class Coupe's AMG version is about 18 months too short, although I must admit some ever-so-slightly antisocial behaviour was creeping into the motoring mix.
It's the cacophonous bellow of the 6.2 litre naturally-aspirated V8 that does it - from a barely restrained rumble as idles off the line, things get quite serious as the revs rise. It is possible to drive this quietly, but who would want to?
It's part of the C-Class triumvirate of horsepower that includes the sedan and wagon, and gives Mercedes something capable of taking on its German rivals in the two-door arena and doing it well.
Audi has its RS5, precise and sure-footed on the renowned Quattro platform, capable of extreme pace and grip and undeniably quick. BMW's M3 coupe is a reasonably small rear-drive beast with technically impressive customisation.
Both have tricky double-clutch gearboxes that smash through cogs like a mallet through butter.
But AMG has taken a slightly different path to lure drivers to its three-pointed star - brute force. Under the lumpy bonnet, there could be Mercedes' newish, high-output 5.5 twin turbo - a stunning engine, no doubt, but unable to bring the noise with such an emphatic note. With the coupe's engine bay, the two turbos weren't going to fit, so AMG jammed in the 6.2 V8, with its beautiful bellow, for another welcome outing. The fact that the coupe hasn't been available in New Zealand since the CLK makes its rowdy arrival even sweeter.
The standard version (I'm using that term in the loosest possible manner) puts out 336kW through the newish MCT seven-speed auto, with 600Nm of torque that's seemingly available whenever you want it, and hits the showroom floor at $168,900. The version tested had been upgraded with the $14,500 Performance Package that adds 22kW for a savage 358kW output by using the same lightweight pistons, connecting rods and crank as in the significantly more expensive SLS.
In short, it's a beast. The interior is ultra-purposeful, from the dash treatment that cuts down on glare, to the easy to navigate multimedia system and always-reachable metal switchgear that turns from one setting to the next with a satisfying click.
Highly adjustable sports AMG seats can be electrically moved forward with a single touch to accommodate any vertically-challenged friends brave enough to get in the back. The test car had stylish black Designo leather upholstery that, with the deep and beautiful cavansite blue metallic paintjob, tied the AMG's "look at me" bodykit together nicely, from the unusually subtle carbon boot lip spoiler to the yawning, vented front, puffed-out guards and the 19-inch titanium grey AMG alloys that are added with the Performance Pack.
There's also a thick, flat-bottomed AMG steering wheel in nappa leather with alcantara grip areas bundled with that option box, as well as high-performance composite brakes.
Every safety bell and whistle you'd expect in a C-Class is included, including lane departure and a very advanced cruise control. These tricks are nice to have, for peace of mind, but the driver feel is so satisfying and gratifying that they seem almost irrelevant.
On the road, the C63 Coupe is settled, staunch and sharp - when the traction control is on. Flick the switch once, and there's enough rear-end slip to hose the back out of a corner and still have enough computer influence to ensure it doesn't get too bent out of shape. If you're enthusiastic enough, it's the most usable setting on Kiwi roads, although it's best driven through the paddle-shifters for a greater sense of control. Flick that switch again, and traction control is all but gone and there's a sharp edge of fear added to the equation.
This is best left for the track unless you live somewhere the government has no control over roading, traffic doesn't exist and the banks and powerpoles are made of marshmallows and rainbows.
AMG doesn't make cars for the faint-hearted, and the sound alone is enough to set up a bit of cardio-meltdown in those who aren't smitten by a tasteful combination of horsepower, speed and, let's be honest, showing off a bit.