SkyActiv continues to evolve and refine the internal combustion engine - and it's a pretty smart idea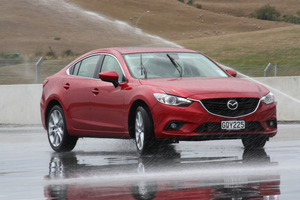 Mazda's plan to milk every last ounce of potential from the internal combustion engine rather than jumping, both feet, into the unknown of EVs and hybrids is proving to be quite a clever move.
Last year, we named the crossover SUV CX-5, in diesel form, as Driven's Car of the Year. The reason was the clever engine, chassis changes and other engineering feats that had served to make it one of the cleanest, most economical and efficient soft-roaders on the market.
Now Mazda has launched the ground-up redesign of its highly popular Mazda6, and has somehow made a bigger car that's better to drive, uses less gas, has a much nicer interior, looks better and will, in all likelihood, sell more.
The sweeping changes that Mazda's flagship four-door has undergone are part of SkyActiv, the result of a hugely ambitious edict from Mazda's CEO Takashi Yamanouchi that the overall efficiency of the company's products is increased by up to 30 per cent.
This meant developing new design and engineering techniques to make for lighter chassis and bodywork, developing new transmissions and rethinking what was taken as gospel by engine builders - reinventing the wheel, basically.
While Mazda isn't completely shying away from the electric and hybrid world (there's an EV model of the Mazda2 available in Japan), its R&D included some outside the box thinking on power regeneration systems. The SkyActiv project is starting to come to fruition, with the CX-5 the first vehicle to contain a full suite of SkyActivated systems. Mazda6 is next in line, and the upcoming Mazda3 will also benefit.
Driven went to last year's Paris Motor Show to see the Mazda6 sedan and wagon unveiled, and then had a chance to drive several models on mostly rural roads and highways in the green belt outside the capital. The cars were impressive even then, although still not final production-spec vehicles. Mazda's engineers and designers were quick to swoop on motoring writers departing vehicles after these test sessions, eager to gain insight on everything from centre console design to the car's handling and engine characteristics. Their notes were comprehensive - every tiny detail was on their radar and there was an overwhelming sense that they were desperate to fill Yamanouchi's requirement and make a significantly better car than its already able predecessor.
But driving in Europe is delightfully bereft of the boulder-size coarse chip that punctuates New Zealand's motoring fun with shudders, excessive road noise and disparaging comments from overseas visitors. So it was nice to get behind the wheel - thankfully on the right side of the car this time - and try both the sedan and wagon, in a variety of specifications and engine types, on local roads.
The drive programme started with a run down Auckland's Southern Motorway to Hampton Downs. At the track there was the opportunity to try things that are generally frowned upon when attempted on public roads - high-speed slaloms, some time on the skidpan and a few rapid laps.
The slalom showed what we already knew - changes to the suspension geometry for the new, larger, vehicle gave it a far more positive turn in, and improvements to the chassis meant it could easily handle quick changes of direction without too much drama. We did learn that the handbrake is still the quickest way to get around the final cone on a slalom course. The reason this warrants a mention is for the benefit of fleet managers, so that the reps and managers that get the new models won't need to try it themselves (insert Tui billboard here).
Getting out on the wet skidpan was extremely revealing - despite LHD vehicles and language barriers, the Paris launch didn't offer much in the way of emergency braking or radical loss of control. Mazda's dynamic traction control systems, once the front end lost grip, provided a surprisingly seamless rescue package, rebalancing the car quickly and without any real indication that it was stopping something horrible happening. Regaining full control of a traction-free front wheel drive car is as good as it gets - and didn't wait for clumsy attempts to adjust accelerator and brake inputs from the driver, just intervening without any fuss and getting on with things very safely.
After leaving Hampton Downs, a long drive through the Waikato and Bay of Plenty offered some experience of real Kiwi roads - the good, the bad and the horrific. The drive route included a run over the Kaimai Range with its long, off-camber corners, slow trucks, and steep winding descent. Can Mazda's new SkyActiv showpiece handle what New Zealand has to offer? Yes, without doubt, and significantly better than the last model did.
Even minor changes, like a slight change in accelerator pressure that triggers hard downchanges from the six-speed auto, have had a huge effect. The last version was quite random in how the transmission reacted, and at times felt uncomfortably squirmy off the line or when coming out of corners, with the front end hard to predict on bad roads.
Mazda New Zealand boss Andrew Clearwater is very clear about his goals for the new 6 - increasing market share, taking it not only from the medium car segment but tempting those usually shopping in the big car aisle or for SUVs as well.
The specification level is extremely high, with radar cruise control, Bose stereo systems, Bluetooth friendliness and safety features like pedestrian protection zones, collision avoidance and blindspot monitoring, depending on the model. We're getting two petrol engines - a two-litre and a very willing 2.5 as well as the 2.2 diesel that was fitted to the CX-5 car of the year.
Wagon and petrol versions are on sale here from April 1, although dealer stock has started arriving. The spec levels go from the base model 2.5 petrol GSX sedan, from $49,795, running through to the 2.2 diesel wagon in Limited spec at $60,795.
While the new 2.5 litre petrol version is an excellent drive, I'll stick with the diesel version that was my pick after the early drive last year. It's a great engine that revs over 5000rpm, taking away the mental block that comes with diesel mills that force a change at 3500rpm. Add to this the fuel economy that saw under 5L/100km for much of the two-day launch, and only peeked over the 7L mark after really pushing it.
The Mazda6 not only carries on the good work of the CX-5, but marks a seachange in what we can expect from the company as SkyActiv continues to evolve and improve on internal combustion.
Loopy? It actually works
In this era of envirocred, not making a regenerative braking system available is like heading into the rainforest with an axe.
Mazda's new system is very different to the average brake energy recovery approach.
Traditional systems feed charge back into the car's battery in a slow trickle that doesn't match the jabs on the brakes that come with city driving. i-ELOOP uses a high-tech
capacitor which accepts charge instantly, puts it through a converter under the passenger seat and then feeds that power to the accessories.
Think of it like a bucket full of water, that's filled and emptied all the time, and quickly rather than slowly filling up a big vessel and then slowly emptying to power the vehicle's drive. So headlights, air-con and the nice Bose audio system will all get bonus power, regained from driving normally, via a clever proprietary high-duty 120-farad capacitor that is built into the front bumper. It fits neatly into the ambitious SkyActiv line-up and while i-ELOOP may sound like something that an archaic internet browser might do to wind you up, it is genuinely clever stuff.