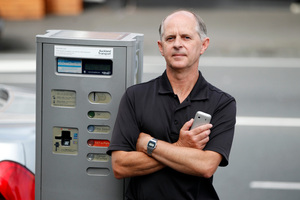 Text-to-pay parking meters have failed at least three times in the past two months.
One man who uses txt-a-park up to 10 times a week says the service isn't good enough.
Tim Kitson claims the system has failed at least six times in the past two weeks, though official figures deny this.
"The most annoying thing is you've got to go all the way through it only to find out at the end that it hasn't worked."
Auckland Transport spokesman Mark Hannan says there have been three days with two-hour outages this year, two of them in January. He is trying to find out why from the provider.
Nationwide, there were 539 complaints about txt-a-park last year and 649 in 2011. Kitson knows he is not the only one being let down by txt-a-park.
He contacted Auckland Transport on one occasion and the operator said he was not the first to complain that day.
"The lady on the phone was extremely helpful, but it's just an inconvenience of their time and my time. It needs to be fixed."
There are 875 parking machines in Auckland and all but nine have been txt-a-park enabled since the payment option was introduced in 2006.
The service works only with phones connected to the Vodafone and Telecom networks.