Sure it's wise to drive frugally- but it's possible to go just that little bit too far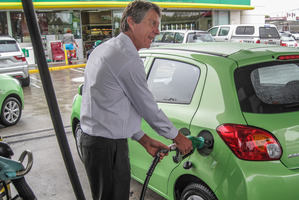 One of my fears is having to take part in a fuel economy run. Although some colleagues regard events such as an Energywise rally as a highlight of their motoring year, I hide at the mention of one.
A couple of times, car companies have unwisely thought it worth seeing "if I were available" but I've always had an excuse: "Sorry, I'd love to, but I have a headache planned for all that week."
There's nothing at all wrong with economy runs, but I couldn't be bothered spending a week driving across the country measuring every gentle poke of the accelerator in case it gets me another point zero-zero-zero something of a litre per 100km.
There are stories of competitors, and they obviously were competitors in every sense of the word, weighing their clothes, not wearing undies to save weight, shoes ditto, and not even carrying a bottle of water because the weight of their sip might mean an added sup of gas.
Hard-core giga-mileage drivers disdain braking, will put the transmission into neutral at the first sign of a downhill, refuse to use the windscreen wipers even when hailing, and won't turn on the radio, let alone (and their throat tightens as these words fight to get out), the air conditioning.
I'm not against economical driving, just against silly economical driving. I'm not really into slipstreaming behind large trucks or straightening out curves with a road-righteousness possessed only by pumped-up economy run participants.
My own vehicle, a V6, chews petrol, though fortunately the cheaper 91 octane kind. Handing over a credit card after filling its greedy tank provides motivation to drive softly, to use my accelerator foot as smoothly and gently as a downy feather drifting on to a jerry can's filler cap.
My other aid to fuel economy is the ECO ON message that glows from the instrument panel whenever the computer judges that the vehicle is being driven in an economical fashion.
Another set of green LEDs keeps tabs of the overall litres per 100km - which is usually depressing - or the instant consumption, which is often either zero (throttle off) or in the 90s (racing up a steep hill).
I have found a few things that make, in their own way, a small contribution to the economy tally which I'll share with you.
There's no point in carrying around a heap of unnecessary weight, so leave all the crap at home. The bags of garden mix don't need a motoring holiday before spreading. Take off the roof rack if it's not being used because it contributes weight and drag.
Another is to put an automatic transmission into neutral at the lights or when stopped for more than a few seconds. Foot on the brake or use the handbrake, though.
Don't let the engine idle unnecessarily. If you're afraid to switch it off because it may not restart, get it fixed. I used to think switching off to be silly, back in the days when I owned a frugal diesel, but the V6 caused me to revisit the advice.
Keeping tyres properly inflated helps a wee bit. I go one step further and put in a little more air than recommended, but be careful; too much will cause uneven wear and create handling and grip problems.
Stay off coarse-chip seal, said to worsen economy by up to 5 per cent. On the other hand, snaking along an alternative route may use more fuel than you're saving.
Driving below the 100km/h highway limit saves, as long as you can stand the tailgating, headlight flashing and gesticulating from other motorists.
Please don't stick to a righteous 80 in the "fast" lane.
A nervous Significant Other is good. Despite the addition of his/her weight, the fuel savings from being admonished to "slow down" and "don't drive like a maniac" are not to be underestimated.
A friend, hitchhiker or anyone else will probably be too timid to offer such useful fuel-saving advice. So leave them behind and save the cost of carting their weight. If you have a selfish streak, it's a great way to put it to practical use.
*Mitsubishi NZ staged an economy run to underline the pump-passing abilities of its new fuel-sipping champ, the Mirage. We're wondering how badly Phil Hanson skewed the result. Find out in Wednesday's Driven.