More folk find double-cab utes are a perfect fit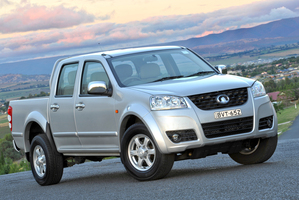 The dilemma
As a tradesman not too far from retirement, Tony has a 2003 Toyota Hilux with a canopy for his work vehicle. And although Tony has a few years of work left in him, the ute may be put out to pasture.
"It's done 150,000km and does not have ABS, stability control or airbags," says Tony.
"I have seen a 2008 Hilux for $29,950, mileage unknown, and also specials offered on new Mitsubishi Triton and Great Wall utes. I am unsure about these, especially about maintenance and depreciation."
Well Tony, double-cab utes fitted out with all the "bling" have almost become a fashion statement. More people are finding them the perfect family and work vehicle.
It's not hard to see why. They drive like your standard road car, with safety and specification levels to match, with the bonus of being able to withstand the rough stuff on the odd occasion it is required.
Even some of the Europeans have seen the opportunities in this market segment, with VW selling the Amorak ute range as an alternative to the far more dominant Japanese brands.
Second-hand prices for older Hiluxes have never ceased to amaze either. They seem to fetch good money whether they be petrol, diesel, manual, auto, high or low mileage and in a range of drive-line and body configurations.
The Budget: $30,000
Mitsubishi Charger X
Mitsubishi has been in the commercial game forever and with the Triton badge offers a very competitive range of vehicles. The Charger X manual at $35,990 (add about $2000 for an auto) is exceptional value for a 4WD ute and has your safety concerns covered. A quick ring around their dealers would suggest there is limited supply left so you would need to be quick. It offers well-proven reliability.
Great Wall V-Series
This is one of the less established brands on the block that is slowly building a customer base for those looking for an old-fashioned workhorse at an affordable price. You're not going to turn heads driving around town but, if it's more about work than play, then it may well do the job. It's not class leading, especially in safety, where dual front airbags and ABS are all you get. No auto either. Resale values and depreciation is where you will suffer.
Ford Ranger
Consistent and well-proven performers Nissan and Ford offer a range of good-quality utes. Nissan has the 2WD RX Double Cab for a tick under 40k for the six-speed manual ($41,900 for auto) while Ford retails its good-looking all-new Ford Ranger Super Cab 2WD (including side and curtain airbags) in auto and manual for a shade more.