David Linklater brushes off his stonewashed denim for an eight-track revival of road tunes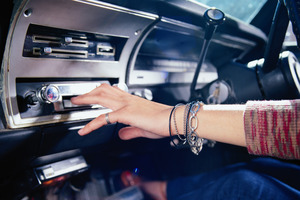 Cars and rock music are inextricably intertwined. Rock songs about cars are plentiful, but most of them are embedded in the world of 1960s' surf culture.
Are there any for those of us who don't like dancing the Twist?
Yes: here are 10 that entertain while avoiding the hot-rod cliches.
RED BARCHETTA
RUSH, 1981
Worth celebrating solely because this song would not exist without motoring journalism: Red Barchetta was inspired by a 1973 article in Road And Track magazine called 'A Nice Morning Drive'.
The song depicts the guilty pleasure of secretly driving a sports car in a future world where motoring is outlawed. Listen to it in your hybrid and feel ashamed.
Sing along: "I strip away the old debris that hides a shining car/A brilliant red Barchetta from a better, vanished time/I fire up the willing engine, responding with a roar/Tyres spitting gravel, I commit my weekly crime."
ROCKET 88
IKE TURNER, 1951
What is arguably the first-ever proper rock'n'roll song is about a car. Ike Turner expounded the virtues of the Oldsmobile 88, the brand's top-seller of the time, admired for its high-tech V8 and nimble character. Bill Haley recorded Rocket 88 later the same year, getting warmed up for the watershed Rock Around The Clock.
Sing along: "You women have heard of jalopies/You've heard the noise they make/Let me introduce my new Rocket 88."
MGB-GT
RICHARD THOMPSON, 1994
Richard Thompson writes lyrics as exquisitely layered and complex as his guitar playing. Unfortunately, none of them is on MBG-GT, but the man's enthusiasm over the mere fact his classic MGB-GT is finally going properly must strike a chord with devotees of the marque.
Sing along: "When I come to town the girls all smile/They say here's the man with the retro style/My MGB-GT, she's a runner now."

NO PARTICULAR PLACE TO GO: CHUCK BERRY, 1964
Chuck Berry sang far more car-oriented songs than No Particular Place To Go, but it's so catchy. It's all about the joy of being free to drive around with your girl (we get it, Chuck), but in the end the singer's romantic aspirations are thwarted by a sticking safety belt. Seatbelts were still a new thing in 1964 and the public was sceptical: when this song came out, seatbelts were only compulsory in 23 US states - just having them fitted, not actually using them. Sing along: "No particular place to go/So we parked way out on the Kokomo/The night was young and the moon was bold/So we both decided to take a stroll/Can you imagine the way I felt?/I couldn't unfasten her safety belt!"
CAR, CAR SONG
WOODY GUTHRIE, 1954
The best children's song ever, because it was written and performed by the artist who inspired Bob Dylan and a host of others. Plus, when you sing it, you get to make car noises. Sing along: "Engine it goes brmm, brmm/Engine it goes brmm, brmm/Engine it goes brmm, brmm/Take you riding in my car, car."
TERRAPLANE BLUES
ROBERT JOHNSON, 1936
Car-as-sex metaphor: not really original now, but it certainly was back then. The Terraplane would have been sexy to the audience anyway: it was a small, powerful, relatively inexpensive machine produced by Hudson. At the time Johnson wrote the song it would have been the latest thing, too: the Terraplane name was introduced in 1932. The lyrics talk about flashing lights and blowing horns... well, you get it. Sing along: "When I feel so lonesome/You hear me when I moan/Who been drivin' my Terraplane/For you since I been gone?"
MERCEDES-BENZ
JANIS JOPLIN, 1971
Social commentary sung in Joplin's most brilliantly sarcastic voice. Apparently ignorant of the concept of irony, Mercedes-Benz used the song for a television commercial in the 1990s.
Fact number one: the title has no hyphen, even though the actual car brand does. Fact number two: Joplin drove a Porsche at the time this song was recorded. Sing along: "Oh Lord, won't you buy me a Mercedes-Benz/My friends all drive Porsches/I must make amends."
ONE PIECE AT A TIME
JOHNNY CASH, 1976
Johnny Cash could just say car names for three minutes and it would be awesome. But in this 1970s' novelty song, he describes stealing individual pieces of a Cadillac from the factory over 25 years and finally assembling them into something with three headlights and one tail fin. Sing along: "Now I never considered myself a thief/GM wouldn't miss just one little piece/Especially if I strung it out over several years."
JEEPSTER
T-REX, 1971
Nobody was quite sure why Marc Bolan thought the girl in this song was treating him like a Jeepster (a fashionable crossover-type Jeep), nor whether he meant the original 1948-50 Jeepster or the contemporary 1966-72 C-101 Commando. It's possible he just liked the name "Jeepster". But it's a cool song. Sing along: "Just like a car/You're pleasing to behold/I'll call you Jaguar/If I may be so bold."
AIRBAG
RADIOHEAD, 1998
Cheery as always, Airbag was Radiohead's haunting ode to near-misses. The timing was certainly right; a similar song today might also have had to thank stability control, collision-warning radar and pre-safe technology. Which is not as catchy.
"In a fast German car/I'm amazed that I survived/The airbag saved my life."
Paul Charman goes old school and suggests a sing-along in the car, turn to page 28