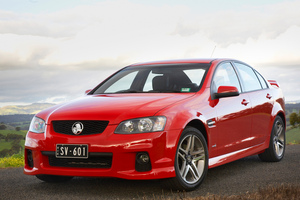 The VF will probably represent the last Australian-made Commodore Tomorrow is a bittersweet moment for Holden. There will be sweet celebrations when the wraps come off the much-anticipated VF Commodore which is hailed as "significantly upmarket" on anything produced before in Australia.
The bitter rub is it's probably the last time a new Commodore in this die-cast will be launched.
After 35 years and the mantle of being Australia's best-selling car for 15 consecutive years, the end is nigh. Although no date has been fixed, it appears an Australian-manufactured Commodore will depart showrooms from 2016.
Buyers are gravitating to small cars and sports utility vehicles in record numbers and Commodore and its arch rival, the Ford Falcon, are no longer on the shopping lists of fleet or private buyers.
The Mazda3 was Australia's top-selling vehicle last year, followed by Toyota's HiLux and Corolla. Commodore retained fourth but sales numbers are spiralling.
Motoring journalist Ewan Kennedy said when the Commodore was launched in 1978 it was designed to be smaller and more efficient than the Kingswood and it could be time to evolve again. "I think there could still be a Commodore for a long time to come," he said.
"It would have to be a smaller car." Kennedy said a vehicle the size of a Mazda6 could be a workable solution and enable Holden to retain a successful nameplate, but it would be powered by a four-cylinder engine and most probably front-wheel drive and imported.
That could see a return to the infamous cut-price, four-potter VC Commodore from 1980.
"It's amazing people who weren't even born when the four-cylinder Commodore was manufactured still know how bad that car was," Kennedy said.
"But come the VH it was improved."
Yet engineers are doing amazing things with the latest technology, and modern four-cylinder engines are more powerful and efficient than straight-sixes and V6s from bygones eras.
Ford's four-cylinder EcoBoost Falcon flies in the face of the old saying "there's no replacement for displacement".
That ill-fated Holden four had just 58 kilowatts and 140 Newton metres of torque.
The 2013 turbocharged Ecoboost Falcon has 179kW and 353Nm, while the latest naturally aspirated (non turbo) Mazda6 produces 138kW and 250Nm. Looking back over four generations of Commodores, arguably it was the VL of 1986, with a 3-litre Nissan engine, which was the standout over 35 years.
The VL sold in record numbers and was the first time Commodore had outsold the Falcon in the private sector.
Following the VL was the beginning of a new generation. The VN had much rounder and futuristic styling.
It wasn't until 1997 that the third generation arrived in the VT which featured more sophisticated rear suspension and raised the Australian manufacturing bar. The last major generational change came in 2006 when the VE was launched, a car designed entirely in Australia and which reportedly cost Holden AU$1billion in development.
Now we're set for the latest, the VF. The wraps come off at Port Melbourne tomorrow and Holden is promising big things.
Holden chairman and managing director Mike Devereux has been tight-lipped about details, but hinted there will be a slimmed-down range.
"It is a significant upgrade," he said. "The car moves in textiles and materials ... significantly up-market. It is a very different feeling car to drive, which is wonderful.
"The car feels a lot nimbler on its feet and the fuel economy numbers are great - world class.
The full VF Commodore range will go on sale in May.