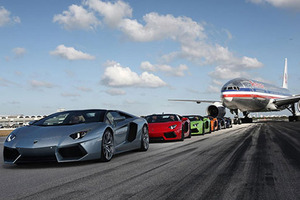 Lamborghini lined up 50 of its Italian jobs for a cannonball run down a runway at the Miami International Airport to help celebrate 50 years in business.
An Aventador Roadster broke 200 miles an hour, then they all paraded through the streets of Miami to be properly introduced to one of their most loyal client bases.
No planes were delayed by the airport run.
Aventador Roadsters were exceeding the lift-off speeds of commercial airliners by at least 50km/h.

Google up the future
According to Forbes, Google may be into driverless cars for more than its party tricks.
The publication says Google's efforts could have a widespread impact on the nature of
transportation worldwide.
The company believes it can theoretically reduce traffic accidents, energy consumption
and the number of personal vehicles on the road by 90 per cent should driverless cars take hold.
What's more, the technology could revolutionise the way developing countries
design their infrastructure, and Google could theoretically be there to lend a helping hand.
Forbes says the autonomous vehicle business could be worth trillions of dollars in the long term, far surpassing Google's present search, advertising and mobile platform activities.

Forget landbanking, buy cars
A US insurer that specialises in classics has predicted 10 cars that will be future collectibles. If you want to get in on the ground floor, here's the 2013 Hagerty Hot List (admittedly weighted toward American products):
SRT Viper: One of the last examples of the mantra, "there is no replacement for displacement".
Chevrolet Corvette Convertible 427: Corvette's 60th anniversary.
Audi RS5: Oozes good taste in the way big BMW coupes used to.
Porsche Cayman S: More powerful, more efficient and lighter than previous versions, It's truly the 911's little brother.
Chevrolet Camaro ZL1 Convertible: Chevrolet's most powerful production convertible will likely be limited to hardcore fans, commanding a premium.
Tesla Model S: Defies the stereotype that electric cars are just for those trying to kick petroleum.
Mini John Cooper Works GP: Hailed as the fastest Mini ever built, and racing to collectible status.
Subaru BRZ: Precision handling sets it apart; rear-wheel drive injects adrenalin.
Volkswagen Golf GTi: The most successful compact sports car in the world has come a long way since the first Golf GTi in 1976.
Ford Focus ST: Four-door hatch with high performance handling is a bargain that will attract collectors.

The trend starts here
Good Oil's always looking to be first to spot a new trend and here's one: red-arrow running.
Running red lights in Auckland is so old hat that it's boring, but turning left or right when a red arrow forbids it is now up there with ignoring those crazy motorway on-ramp signals.
Good Oil first identified this as a trend the other day, spotting seven instances in 48 hours. Now, peering from the narrow windows of the armoured Oilmobile, we're seeing it happen almost daily, all over town. Be vigilant.

We are the world
*A pair of Aussie burglars tried to rob a jewellery store in Beaudesert, south of Brisbane, by breaking through the basement from an adjacent shop. Unfortunately, they broke through the wrong wall and wound up in a KFC. Undaunted, they robbed the KFC of about $3000.
*A podiatrist in Memphis, America, reports an increase in women asking for surgery so their feet can fit comfortably into a pair of irresistible shoes. The doctor said he sees as many as 30 patients a month who want to comfortably put their best shoe forward.
*An ''adult'' search engine reports two popular porn websites it analyses have been viewed 93 billion separate times, or about 13 views for every person on Earth.
Given average viewing time of 11 minutes a visit, PornWatchers.com calculated people have spent about 1.2 million years watching porn on just those two sites.
*Employees of major American car-parts retailer were herded into a backroom by a gun-wielding robber. Fearing for their lives, one broke free, ran to his truck, and retrieved
his gun, a Glock 40. The robber fled, but the employee had violated a zero tolerance policy against employees bringing firearms into the store ... and was sacked.

Number Crunching
9545 VEHICLE injury crashes in NZ in 2011.
12,574 PEOPLE injured in those NZ crashes
93,000 KM All types of road in NZ
32,800 KM Unsealed roads in NZ