Two-doors are a dying breed but there's still some standouts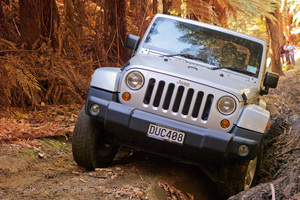 They're as different as chalk and cheese, the last of their breed, a queer quartet of off-road SUVs.
Fifteen years ago, two-door 4WD wagons flourished - from the compact Daihatsu Feroza to the big, tough Nissan Patrol (Safari in used-import guise).
Today, only four remain on the local market - two from Japan, one from Britain and one from America - survivors of a breed largely abandoned in favour of four-doors.
Although four-door SUVs are roomier and more practical, their smaller kin are still appreciated by off-roaders who prefer a nimbler size and tighter turning circle and by others who just like smaller vehicles.
Last to try introducing a two-door off-roader here was Mitsubishi, with a new-model Pajero. The four-door was a success, but the two-door - basically a short wheelbase version of the larger one - was a sales dud.
The short Pajero fell from the new-vehicle highway because the already small market was largely met by cheaper used imports.
Sales of used-import two-door Safaris, Land Cruisers and Pajeros have been relatively strong.
Today's two-door survivors are the wee Suzuki Jimny, one model of the company's larger and more sophisticated Grand Vitara, the Land Rover Defender 90 and the Jeep JK Wrangler.
Ironically, the Wrangler spawned a long wheelbase version, the Unlimited, that has been a far better seller than the two-door in many markets, including New Zealand.
Toyota's modern retro FJ Cruiser looks like a two-door, but has a clamshell-type arrangement with two smaller doors behind the main pair.
Apart from the number of doors, the four survivors are so different from each other.
Both Suzukis are powered by petrol engines only, the Land Rover by diesel and the Jeep can be ordered with either, although diesel is no longer part of the regular lineup.
The Jimny is just 3645mm long, shorter than a Toyota Yaris, and weighs about 1650kg. The modest dimensions help provide a tight turning circle of less than 10m. Low weight and a 1.3-litre engine give the best fuel consumption of the four.
Suzuki's other offering, the Grand Vitara, is 4060mm long, weighs about 1550kg and turns in a respectable 10.2m. Its level of equipment, ride and handling are well ahead of the Jimny, but it lacks the small SUV's character.
Defender's two-door looks bigger than it is. Only 250mm longer than the Jimny, it weighs about 1850kg and takes a generous 13.3m to complete a circle.
Jeep's offering is 4223mm long, checks in at about 1850kg and turns a full circle in 10.6m.
A Jimny makes a great basic suburban runabout, but despite its off-road looks and beam axle suspension, it's not as good on the tracks as it might seem, lacking any form of traction control and possessing uninspiring ground clearance. The Sierra costs $22,990 in manual, $24,500 with auto,
For many buyers, the extra luxury and features of the Grand Vitara give it an edge over the Jimny. It costs $31,690 in manual and $33,190 for the four-speed auto. Thanks to electronic traction control, and despite its independent suspension, it's probably the better vehicle off-road, although it doesn't look it.
People still buy Defenders partly because they feel so darned good in them.
And it does the deed off-road, too. Considerably more nimble than the four-door 110, it's also a pretty decent around-towner, if slightly let down by the six-speed manual that forever seems to need changing.
A Defender station wagon costs $68,500 in manual only.
The Jeep also has heaps of tradition. It was, after all, the original 4WD runabout, but unlike the Defender the current-production JK is a modern vehicle in most respects. Two doors are sold in Renegade trim for $52,990 or $57,990 for off road-ready Rubicon. As they come off the showroom floor, a Rubicon will generally whip the Defender.
One of the fun things about the Wrangler is that you can pull off the top, the doors and even fold the windscreen to the bonnet, WWII-style.
Add all this to its agility and improved fuel economy from the new Pentastar V6-five-speed auto combination and a Wrangler's hard to pass as top gun in this quartet of off-road, two-door survivors.
True, you could buy two Jimnys for the price of a Wrangler, but it's best not to dwell on that.