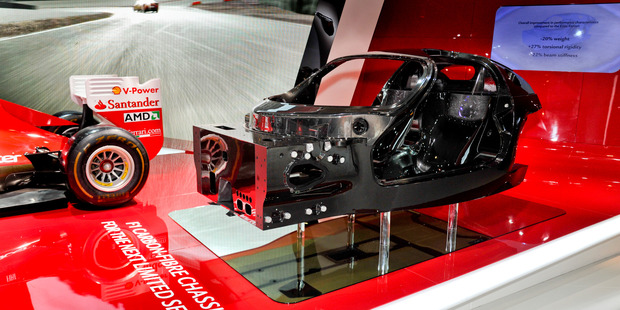 Ferrari will pull the covers off its explosive new hypercar at the Geneva Motor Show next month - after its very coy appearance at last September's Paris show.
The company has already held an event at its Maranello headquarters to give its most valued customers an early look at the Enzo successor, code-named F150.
Snippets leaked from the event have revealed that it will be powered by a V12 engine similar to that used in both the F12 berlinetta and the FF, but this time mated to a KERS system, adding up to a very serious 706kW.
This will give the new car the edge over Porsche's high tech hyper hybrid, the 918 Spyder, which milks 430kW out of its V8 engine, with electric motors adding another 181kW to the mix. There will be 918 cars built for 2014, with production starting in December.
Production details on the new Ferrari superstar are a bit sketchier, but it is believed that there will be just 499 built, with a sticker price of around NZ$1.5million.
It has also been said that the car is fitted with a very high-tech and very unique exhaust, which will sound like an F1 car when it reaches the upper reaches of its rev range.
The carbon fibre Ferrari comes with fixed seats in order to maintain its perfect weight distribution, but the pedal box and steering column are adjustable. It will feature active aerodynamics, which also appear on the upcoming McLaren P1 - a rear wing slides backwards and forwards to provide maximum downforce when required.
The F150 (an internal company codename) weighs less than 1300kg, giving it a 0-100km/h sprint time of just three seconds, and a hair-raising 370km/h top speed
Ferrari's 'reveal' at last year's Paris Motor Show consisted of the new car's carbon fibre tub, and was rumoured to be the reason that McLaren's P1 presentation was cut down to an external view of the car and very little extra detail.