Mitsubishi's Outlander VRX lifts its game with a much-needed revamp, writes Phil Hanson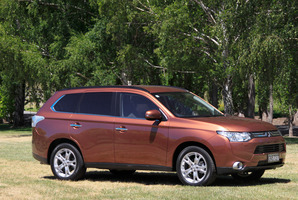 What a difference a year makes. Exactly 12 months ago I was driving another Mitsubishi Outlander, one of the last of what was once New Zealand's best-selling medium SUV, and thinking that its use-by date had arrived.
The Outlander was still okay, but lacked some of the refinement of its newer rivals.
The marketplace must have thought likewise, because the Outlander's sales had been taking a mauling, principally from Holden's Captiva.
Mitsubishi was, of course, well into the development of a new model that broke cover in New Zealand last month, and here I am again enjoying the new year in the top-line VRX turbodiesel. One can be yours for $56,990.
And the question I'm asking is whether there's much to celebrate in this new model?
It looks rather like the old one; perhaps a little too close for comfort except at the nose, which no longer emulates an F-100 Super Sabre's.
Well, it doesn't leak that much was quickly established driving in the wet, rubbish weather that soaked much of Driven's readership over Christmas.
And like most modern SUVs, it handled wet, slippery roads with ease. Switch it into auto 4WD mode, the next one up from the Eco setting that keeps it in 2WD as much as possible, and you can all but feel the sensors gritting their teeth and feeding mega-information to the computer, which uses it to sort out traction issues.
The VRX is the top Outlander, a specification available to both diesel and petrol buyers; it has leather seating and most of the trimmings, so on a wet and unappealing day it's a really nice place to be. Conservative for sure, but also reassuring.
It sort of reminded me of the secure feeling I got, as a kid, visiting the grandparents' place.
I don't think Mitsubishi really had the youth market in mind when it styled the VRX's interior; but that Bottom line:
The VRX's interior may evoke memories of granny's living room, but maybe that's a good thing aside, it's a decent improvement, and it's also rather quieter.
As before, the real feature of the Outlander's great indoors is seating for seven.
Let's not kid ourselves that, in a vehicle only 4655mm long, the six and seventh seats aren't going to be compromised.
The previous Outlander arrangement wasn't bad, but Mitsubishi has now done better.
When not needed, the seats, which split 50/50, vanish into the floor.
Unfolded, they're easy to get to and provide reasonable comfort for smaller people, made more so by the second row that slides forward by up to 250mm, giving more leg room back there - at the expense of the second-row occupants.
In a perfect Mitsubishi world, the driver and front passenger will have short legs, so both the first and second rows can shuffle forward for the good of those in the third.
True, there's not much room for more than a paper bag in the cargo area with the third row in place, but flatten the second and third rows and there's a cargo compartment 1690mm long, 335mm more than the previous Outlander.
Mitsubishi suggests this will accommodate five extra cases of wine, but failed to supply said cargo for Driven to confirm.
Enter a new power tailgate that works by a switch on the door or remotely, from the smart key. Domestic managers with three kids and four bags of groceries, in the rain, may appreciate this addition and even admire the way it glides up and down, but real blokes will just want to haul open the damned thing by hand.
Also aft is a reversing camera that displays what you're about to hit on a seven-inch dash-mounted monitor.
But the real story is the diesel. It's the first time Outlander has had one, which previously put it at a disadvantage in a sector with a healthy appetite for this type of engine.
The 2268cc four-cylinder produces 112kW and 366Nm of torque between 1500rpm and 2750rpm.
Overall fuel economy is 5.8 litres per 100km and CO2 emissions, 151g/km.
It's not the boldest diesel in the SUV park, but it's lively enough, especially when moved along via the steering-column shift paddles.
Its torque characteristics complement a chassis that offers almost-sporty handling.
The market is awash with mid-size SUVs. The numbers thin when seven seats are a must.
Among this group, the Outlander VRX should do very well.