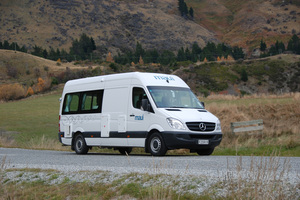 What is it?
A Maui Ultima two-berth self-contained motorhome, renting for up to $336 a day, or for sale at $89,900 second-hand. Based on a Mercedes Sprinter 80kW/280Nm 2.2-litre diesel auto, it's fitted with a shower and cassette toilet, three-burner gas hob, external slide-out gas BBQ, microwave, fridge, and a DVD-TV.
Impressive storage in blonde-wood cabinets. Two over-narrow single beds convert to one wide double, or a U-shaped bench and table.
We like
Great compromise between live-anywhere comfort and usability from a relatively compact footprint.
We loathe
Shower's pathetic water delivery.