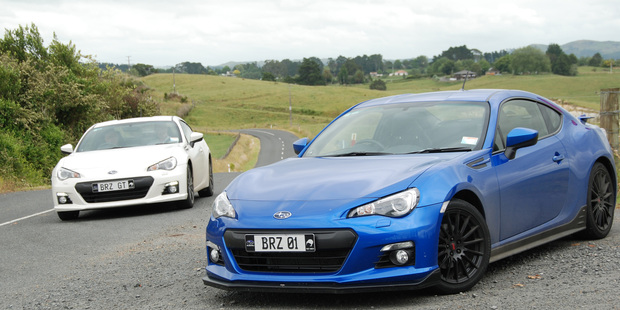 The Toyota-Subaru relationship that resulted in this BRZ and the already launched 86 has proved something of a pact with the devil for Subaru, second in the queue to launch an almost identical car.
What's new
Most obviously new - given BRZ's Toyota 86 sibling is not only on sale, but has already snagged the coveted NZ Car of the Year title - is a two-wheel-drive NZ-new Subaru, the brand associated here solely with four-paw cars and making an exception for this model. Otherwise you're looking at badges and trim - and some suggestions the suspension is a tad firmer than the Toyota's, though even Subaru NZ couldn't confirm this.
Otherwise the BRZ features the same handsome body, the same 2.0-litre 147kW/205Nm flat-four engine sitting lower and further back than it does in Impreza, matched to a six-speed auto or manual transmission, with the same light weight and the same focus on sweet rear-drive handling.
The company line
Subaru NZ managing director Wallis Dumper admits Subaru is "the second cab off the rank - every market has launched behind Toyota, and we're further behind because we're small". But he sees an edge in exclusivity, "We don't want BRZ to be an 'I've got one too' car." He pitches BRZ as an exciting spice to the brand, "but the new Forester is more important - with a new lineartronic auto with eight speeds, the beginning of a new generation".
Dumper put together the $69,990 BRZ full of STI kit pictured here, but won't build a more radical package until he knows more about the STI coming, which he anticipates will have more power.
What we say
Subaru NZ's home-grown STI pack looks and sounds great, but I suspect the front lip spoiler ($1500), spoiler protector ($475), side skirts ($2000) and rear under diffuser ($1500) will have an adverse affect on ground clearance at the supermarket - or even the fuel station entry. Still, that bodywork and the optional black 17-inch wheels ($4250) plus the red push-start button ($420) add high-performance looks to a handsome car.
Why not buy the Toyota?
Subaru's quirky character and the six-star badge have more cool-factor than any Corolla stable-mate.
On the road
Hop into the STI version and you'll immediately love the fruity exhaust tone, and this manual variant with lowering springs feels more agile and responsive too. But the extra road noise and harsher ride that suit this upgrade to track days will get wearing during everyday driving.
Why you'll buy one?
You love the Toyota 86/ Subaru BRZ coupe recipe that stresses agile handling and value, opting for the BRZ largely for its rarity value; there'll be no more than 40 sold next year.
Why you won't?
You need practical rear seats, prefer all wheel drive - or don't see the point of an affordable sports coupe.