BMW's X1 is all practical - yet a reversing camera is not standard.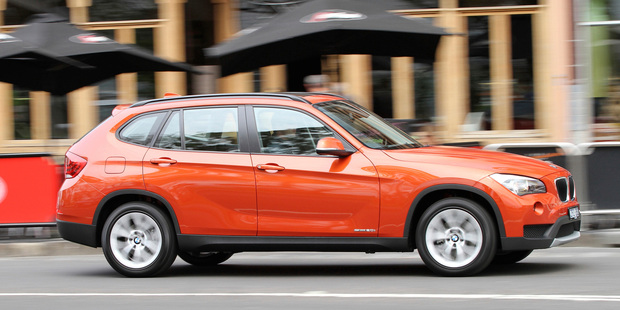 BMW's higher-spec'd X1 soft-roader offers greater comfort to back seat passengers who fancy a snooze.
BMW'S SUV range takes almost 40 per cent of its sales, and with SUVs so popular it can't afford to drop the ball. Hence this facelift for X1.
What's newThree new engine variants, with two 2.0-litre four cylinder turbo petrol engines, putting 135kW and 270Nm to the rear wheels for a zero-to-100 time of 7.4 seconds, or in a higher state of tune sending 180kW and 350Nm to all four wheels to sprint in 6.1 seconds.
The same 2.0-litre diesel puts out 135kW and 380Nm in two or four-wheel-drive and is joined by an entry-level 18d based on the 2.0-litre unit.
X1 now gets an eight-speed auto - a six-speed manual can be ordered - with start-stop and brake energy regeneration to maximise fuel use.
Among subtle exterior changes is less black plastic. Different, larger alloy wheels are available.
The cabin is more driver-oriented, with a higher-quality feel and better attention to detail after criticism of the original X1's plainer cabin.
X1 now also gets the "lines" that let buyers choose a package of options at a lower price than if they'd been bought separately.
The company line
BMW says though prices have nudged up - now $65,600 to $87,000 - specification has increased, too.
What we sayThe X1 is a reasonably practical, enjoyable drive, for a soft-roader. The 40-20-40 back seat split may not please centre rear passengers but it's easy to tailor luggage and seats for a variety of scenarios, and tilting rear seatbacks ease comfort.
The packages delivered by BMW Lines have been well thought-out to give an "optioned-up" feel with reduced wallet sting.
On the roadBMW calls this a SAV or Sports Activity Vehicle - and it may suggest kite-surfing, mountain-biking and hang-gliding but it's also talking drive appeal, especially with the torquey 380Nm diesel or the higher-powered petrol.
The two-wheel drives exhibit a whiff of rear-drive character, while the four-paw cars add grip, and use xDrive to brake the inside wheels and boost torque to the outside to literally drive the car round corners.
Why you'll buy one?X1 is smart, drives well, and no longer feels like a cut-price Beemer.
Why you won't?BMW may have boosted the features but you refuse to pay extra for a rear-view camera - at $500 and sold with the $2000 satnav option. Its omission is puzzling, especially in an SUV. They're often cited in driveway run-overs. BMW says the rear view from a sedan is worse.
That may be accurate, but SUVs are favoured by families, and those with small children are most at risk. Fitting as standard a feature becoming common in lower-priced cars would seem responsible.