Status, luxury, finesse ... wrapped up in practicality. Audi's hallmarks are stamped on the new A4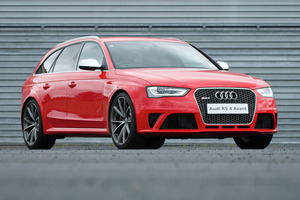 Meet the new model in the Audi A4 range. It's a practical thing: nice station wagon, fold-down rear seats, great for the family. With projected sales of 75 next year, it'll be the most popular single variant in the lineup.
It's the new RS 4 Avant, by the way: monster engine, trick quattro four-wheel-drive system and a price tag of $154,000, launched with a touch of panache from the RNZAF at Ardmore airfield last week.
If the performance flagship RS 4's considerable contribution to A4 sales comes as a surprise, it shouldn't. It's partly to do with the fact that the mainstream A4 is a modest seller in New Zealand and the RS 4 is much in demand, but it's also because Kiwis absolutely love their RS models.
It was the same with the previous generation RS 6 Avant back in 2009: in its first full year on sale it was the biggest-selling A6 model. What recession, again?
While most of Germany's high-performance brands concentrate on engine downsizing and extra efficiency through turbocharging, the new RS 4 sticks with the tried-and-true: a rumbling 4.2-litre V8 engine engineered for high-rev running.
It spins to 8250rpm and makes 331kW/430Nm. This car can rocket to the open-road speed limit in 4.7 seconds, yet returns 10.7 litres per 100km. Not at the same time, presumably.
If that sounds old-school, here's a sign of the times: the RS 4 now comes with a seven-speed robotised dual-clutch transmission, known as S tronic. While the previous RS 4 was offered only with a conventional manual, this comes exclusively with two-pedal transmission.
Audi argues that S tronic offers faster shift times, better acceleration and superior fuel economy to a manual. Lovers of three-pedal gearboxes will argue that an "automatic" (which S tronic is, in practice) can never offer the level of driver involvement a manual brings.
The S tronic does make sense because Audi's RS models have become legendary for making high-performance very accessible, thanks to all-wheel drive and a variety of high-tech driver aids.
The RS 4 sticks to the formula and sticks to the road. It employs quattro with a self-locking crown gear centre differential and torque vectoring, which monitors steering angle and throttle position to brake individual wheels and ensure optimum power distribution.
The RS 4 is also fitted with Audi's sport differential as standard. In addition to the torque vectoring system, this can apply extra power to the outside rear wheel during hard driving, helping to push the car around corners. Even so, there is enough speed, surreal exhaust noise and lateral g-force on offer to demand your full attention.
But the beauty of this car is also partly its downfall for the enthusiast: it's just so easy to drive scarily fast.
Does the RS4 have finesse? Yes, at low speeds, where it enjoys a relaxed gait and carries the aura of a car with plenty in reserve. In fast driving, it's more a case of terrifying pace and brutal handling ability.
Driver entertainment for these RS machines does not mean delicate steering and chassis balance: it's high-speed safety, unrivalled A-to-B ability and outrageous soundtrack.
Plus status, luxury and practicality of course. You cannot mistake the RS 4 for an ordinary A4 Avant, thanks to a bespoke body kit, 20mm-lower ride height and the signature RS squared-off wheel arches, which are inspired by the original Quattro. Inside, the RS 4 is low-key but beautifully finished. The figure-hugging "sports bucket New A4 truly AUD-acious seats" of the previous model have been relegated to the options list, apparently because too many Kiwi owners couldn't fit into them. Instead, there are simpler "sports seats", which as still supportive but much less aggressive.
The new RS 4 Avant could be called good value, because it's $15,000 cheaper than the previous model. It's generously equipped, although many of the more desirable items remain on the options list: for example, to add adaptive RS suspension, 20-inch alloys, adaptive cruise control and side/lane assist adds $15,000 to the sticker price.
Many owners will be happy to pay that. This is, after all, the performance flagship of the A4 range and a special car, even if it will be one of the most common models too.