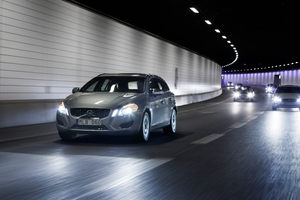 Volvo has started making the V60 Plug-in Hybrid. The new car, which is the world's first production diesel plug-in hybrid, is being built on the same line as the standard V60 at Volvo's Torslanda plant in Gothenburg, alongside its other large models, the V70, XC70, S80 and XC90 - that's quite an achievement, apparently, given the Plug-in's extra complexity.
Volvo will build only 1000 or so units during the first year, but this will rise to between 4000 and 6000 for the 2014 model year. The first customers should get their cars during January 2013.
The V60 Plug-in has two complete drive-trains working in tandem - the diesel engine drives the front wheels and the electric motor powers the rear - and it's capable of travelling up to 32km in electric-only mode using its 11.2 kWh battery.
The first plug-in hybrids, such as the plug-in version of the Toyota Prius, are already on the market (although this model is not available in New Zealand yet) and Peugeot and Citroen offer diesel hybrids, but Volvo is the first manufacturer to combine these technologies in a production car.
As well as opening up an interesting new niche, the V60 Plug-in Hybrid, developed in co-operation with Swedish power utility Vattenfall, is an important demonstration of Volvo's engineering expertise now it is no longer able to draw on the resources of its former parent Ford.
- Independent