Mercedes boss reveals new weapon in German sales fight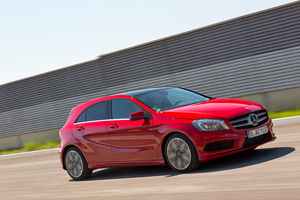 Mercedes-Benz' new Asia-Pacific CEO has wasted no time in making his intentions for the luxury Euro car market in New Zealand very, very clear.
German Juergen Sauer is used to playing in a far more Merc-friendly sandpit - the huge Russian market, where black Mercedes are a badge of honour and the occasional armoured S-Class has been known to be sold for a big case full of cash.
"Not any more - at least not Mercedes," he quickly points out.
After eight years at the helm in Russia, the Australian and New Zealand patch certainly pales in comparison - for starters, Mercedes-Benz rules the roost; here there's BMW and Audi to contend with.
He increased Russian Benz sales by a staggering 15 per cent during his time in charge, but doesn't have any illusions about the battle the company faces here.
"I'm afraid I can't do this in New Zealand,"Sauer told Driven, "there just is not enough population."
But what he does intend to do is use vehicles like the funky new A-Class hatch, some tricked C-Classes and glory models like the new CLS Shooting Brake to put some big sales on the board.
"There are some very important models coming that we've waiting a long time to have here," he said. "New Zealand is a very important market to us - although it's not the biggest. Behind Audi and BMW is not a position that we like to have. We will work to change that."
If any vehicle is going to help achieve this very challenging goal, it's the new A-Class.
The original car didn't get off to the most auspicious of starts when it launched in 1997, with a Swedish magazine's attempt at the collision avoidance "elk test" putting the new car on its lid. This was widely publicised, and Mercedes doesn't like to look stupid, and doesn't make the same mistake twice. The new A-Class is the third generation, and it has taken the car from being quite an awkward-looking small city vehicle and turned it into a slick, sporty hatchback which in the flesh looks quite stunning.
With pricing that's likely to see those shopping for lesser brands poking their heads into Coutts for look, the new A looks far more aggressive, screams cool and has the same, serious face that we see across the range.
There's even a savage AMG-tuned version on the way - the A45.
Mercedes is definitely putting its best foot forward with this enthusiasm to take out the other two big Germans (not Dotcom - he won't drive anything un-Benz as a rule). There's a roadshow doing its rounds of New Zealand with a new C-Class Sport (essentially an AMG without a force-fed V8 under the bonnet), the B-Class and, of course, the new Shooting Brake. The CLS "wagon" on tour is actually the hyper-rare Edition One version (you can guess why), complete with every bell and whistle, including a laminated wooden floor and will be sold after its duties are over. It will cost a solid $280,000.