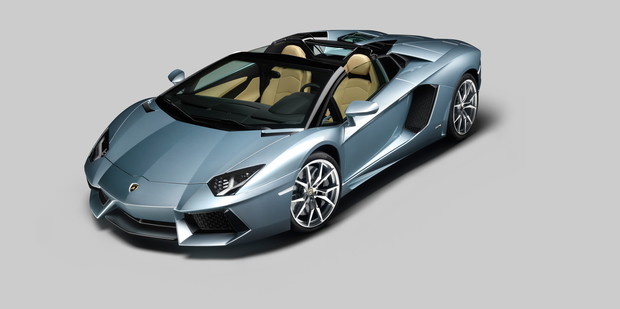 Lamborghini has revealed a new open-top version of its $700,000-plus Aventador.
The Aventador LP 700-4 Roadster features some design tweaks from its tin-top stablemate, with a redesigned rear pillar which doubles as roof support, and a new engine cowling featuring a central 'spine' and connected hexagonal windows that enhance engine cooling.
The two-piece carbon fibre roof weighs so little - under 6kg for each part - that it can be stowed in the front luggage compartment when not in use.
The car's powered rear window can also be adjusted to vary airflow and to allow more engine noise into the cabin - or less, if the sound of a naturally-aspirated V12 at an 8250rpm redline doesn't do it for you.
Under the bonnet lives the same 6.5-litre V12 that powers the coupe, with a 515kW maximum power output and a solid 690Nm of torque, which makes the supercar capable of a 0-100km/h sprint of around three seconds and a top speed of 350km/h, conditions and legality allowing.
Power is fed to all four wheels via a seven-speed semi-automatic transmission.
The bodywork comes in a two-tone finish with gloss black on the windshield pillar, roof sections and rear window up to the fins. The interior has also been tweaked with new hand-crafted upholstery options in high-end Sabbia Nefertem leather.
In a first for the supercar market, the engine includes a cylinder deactivation system when it is on light duties and it now adds a Stop/Start system using high-performance supercapacitors.
- nzherald.co.nz