Australian journalist Peter Atkinson tests the new BMW Z4 around Brisbane.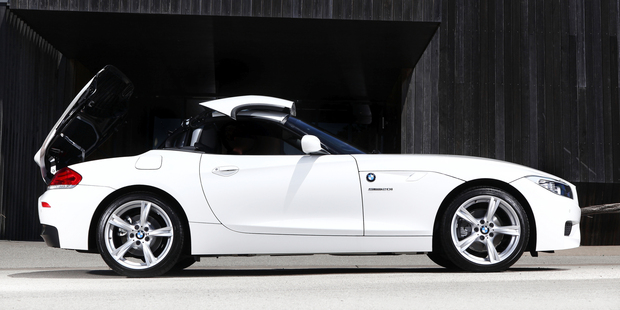 It's not all that long ago that "turbo" was something of a dirty word at BMW.
There was a purist streak at the famous German company that insisted, by and large, that the Ultimate Driving Machine should be powered by a high-revving, normally aspirated engine, preferably with six cylinders, all in line.
Perhaps the ultimate expression of that was the previous model BMW M3 - possessor of what remains, in the eyes of many, the most wondrous six-cylinder engine to grace the planet. Not to mention the equally fabulous, Formula One-bred V10 which powered the M5 and M6.
But times change. That aversion to force-fed engines has faded at BMW, where turbo-charging is the new force behind a fast-evolving range of vehicles. It's become the very foundation of their "Efficient Dynamics" motto - with turbo-boosted engines at each end of the model spectrum, from small fours to high-performance V8s - a world away from the brand's past philosophy. Not that it's a bad thing, mind you.
Take the latest version of their Z4 roadster, for example.
A potent, turbo-charged two-litre engine has breathed fresh life into this desirable two-seater - which we've tested in numerous forms but never more effective, pound-for-pound, than this one.
We've never had many complaints about the Z4 - particularly the current version which, for the first time, has married its razor-sharp handling with a slightly more compliant ride and, on the practical side, a folding steel roof.
Whereas once it was a focused and hard-edged driving machine in the Porsche mould, it has gradually become more user-friendly, if a little less driver-centric - following the lead of its arch-rival Mercedes-Benz SLK.
Given that Benz has launched an entirely new SLK, the arrival of this new and improved engine option gives the Z4 a welcome sales boost.
Known as the Z4 sDrive28i in BMW's complicated naming convention, our test car features for the first time a 2-litre, four-cylinder engine boosted to produce a rather impressive 180 kilowatts, plus 350Nm of torque.
That means it's a seriously quick thing which will reach the speed limit in a brisk 5.7 seconds - while still managing a modest thirst of just 6.8L/100km. We've driven quicker versions of this model. Mind you, the Z4 Sdrive3.5si, with a twin-turbo six-cylinder, boasts supercar performance with 250kW on tap.
But the biggest bonus of plonking a lighter, but almost-as-powerful four-cylinder engine into the Z4 is that it creates an even lighter, more nimble machine to drive.
This latest version of the Z4 has never been a lightweight - with its folding steel roof taking the place of the traditional, lighter cloth top previously used by BMW for this model. But the weight gains achieved with the smaller engine make it feel instantly more like the sports car it was always intended to be.
It's truly a joyous thing to drive - tempting you to pitch it into corners just to feel how assuredly it bites into the tarmac.
The excellent eight-speed sports automatic transmission fitted to our test machine (a $3500 premium over the standard six-speed manual) was a perfect fit, too - using the shift paddles to always keep this punchy engine on song and blipping through the gears on downshifts.
There has always been a certain sound you expect to come from the tail-end of a BMW - that sonorous, crisp bark of a straight-six engine which identifies the beautifully engineered powerplant within.
But not this one. This one sounds like an Alfa, which is no bad thing.
The Z4's 180 kilowatts might be short of the 185 produced by VW's Golf R or the 200-odd kW squeezed out by the likes of Audi's S3, Subaru's Impreza WRX-STI and the Mitsubishi Lancer Evo.
But this car is smaller, lighter and more purpose-built as a sports car than any of those. And the engine is very flexible through the rev range - if lacking the hand-grenade punch of some of those mentioned above.
The Z4's cabin is nicely trimmed in polished wood and supple leather - although the layout, which impressed us greatly when this car was first unveiled three or four years back, is beginning to look dated.
The new powerplant should help give the Z4's sales a boost. A turbo boost, you could say.
* The Z4 is set to arrive in NZ mid-2-13. No price has been set.
- AAP