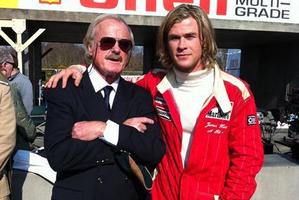 A Kiwi petrolhead has shelled out $600,000 to turn his bashed-up old Ferrari into a replica of one of the world's most valuable cars.
Alastair Caldwell, 69, spent three years having his 1965 Ferrari 330 GT transformed into a mirror image of the $45 million Ferrari 250 GTO.
When the New Zealand firm that started the work went bust, UK-based businessman Caldwell put together his own three-man team at an industrial park on Auckland's North Shore to finish the job.
"People told me I was mad, as my old Ferrari had already cost me about $160,000 and was in a real mess after a race in South America," he told the Herald on Sunday.
"I was tearing my hair out at times, but I'm delighted with the results and it was worth every cent."
Caldwell had his old Ferrari shipped from Slough, England, to New Zealand to be restored.
The stunning vehicle is identical to the 250 GTO but has a slightly bigger engine. Under the hood is a powerful 4-litre V12, which gives it a top speed in excess of 241km/h.
The Ferrari 250 GTO was built in the early 1960s. One raced by Sir Stirling Moss sold for $45 million this year. Other owners include Pink Floyd drummer Nick Mason and fashion designer Ralph Lauren.
Caldwell's replica is now back in England and he plans to race it in the future.
"Every time I go out in it, people crowd round and start asking questions. It's a real head-turner," he said.
But the glamour doesn't stop there for the colourful expat. He won two world championships managing the McLaren Formula 1 team, in 1972 and 1974. As a result, Caldwell has landed an amazing double role in upcoming Hollywood movie Rush.
The story tracks the intense rivalry between drivers James Hunt and Niki Lauda during the 1976 F1 season.
In the movie - made by Apollo 13 and Da Vinci Code director Ron Howard - Caldwell is played by British actor Stephen Mangan, who starred in box-office smash hit Billy Elliot and television sitcom Green Wing.
Caldwell also managed to land himself a role as a grand prix official in the flick, due for release next year. "That was great fun," he said. "We had some pretty crazy times back then."