Revitalised hatchback aimed at younger buyer.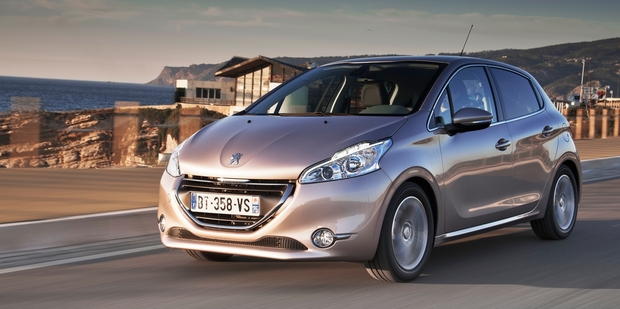 Peugeot is determined to get its claws back into the hatchback market with the launch of the 208 in New Zealand next week.
With the staid previous models - the 206 and 207 - failing to help it hold on to market share against the likes of the Ford Fiesta and Suzuki Swift, there are hopes that this revitalised hatch will win over buyers who want a European car for around the price of a Japanese equivalent.
Peugeot's New Zealand distributor, Sime Darby, says the new car is a generation jump from the previous model, and it's after a generation jump in its buyers too.
It is wooing Generation Y buyers, who are used to such features as the 208's touch screen, and thinks it's a 70/30 split of women over men buyers. The company wants to lure new buyers of the brand into its showrooms, especially with the offer of finance packages.
In the showrooms will be 208s available with two petrol engines (a 1.2-litre VTi five-speed manual and a 1.6-litre VTi four-speed automatic) and three- and five-door body types.
The base model Active 1.2-litre five-door will sell for $23,990; the Active five-door auto for $25,990, which Darby is picking as fan favourite, and two fancy Allure models: a three- and five-door with that 1.6-litre-auto transmission combo, priced from $28,990 and $29,990 for the three-door.
The 1.2-litre manual is perky enough, though it needs pushing through those lower gears to get the torque up, while the 1.6-litre auto is a city slicker.
The interior is a stylish affair, with a "heads-up" instrument panel sitting just over the top of the steering wheel so the speedo and rev-counter can be seen at an easy glance, while next to it on the dash is that 18cm touch screen.
But it's the steering wheel that dominates the cabin's style. It's smaller than previous models and has an oval rather than rounded base, giving a sporty look. Its smaller size also helps direct and precise driving control.
The body gains sculptured lines while the boot has a subdued curve and the boomerang-shaped rear light has three lines of red lights around it to create a "claw" mark.
Just as the 208 lands here, the souped-up versions of the hatch are being revealed in Europe.
The GTi model was presented at last week's Paris motor show, with a R5 S2000-spec rally car (top left), while a premium 208 XY has launched in Europe.
Both the three-door hatches are defined on a widened track.