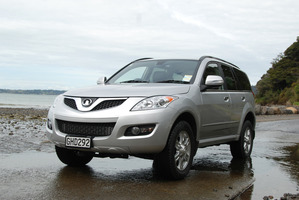 Families will like the rear-vision camera.Photo / Jacqui Madelin
What is it?
Great Wall's X200 SUV, with a 2.0-litre turbo-diesel engine fielding 105kW at 4000rpm and 310Nm at 1800-2800rpm put to the road via switchable two- or four-wheel-drive.
We like
Lots of metal for $34,990, with a reasonably extensive specifications too - including electrically adjustable seats, cruise control, stability control, a tyre-pressure monitoring system, auto headlights, Bluetooth and a rear-vision camera that ensures dad won't reverse over junior's tricycle some weekday morning.
We loathe
Plasticky materials, truck-like handling, too-relaxed performance, two airbags, 1700kg braked tow rating, and a brake pedal that needs mega pressure for rapid stops are what you pay for a big diesel SUV with a new-car warranty at this price. Jacqui Madelin