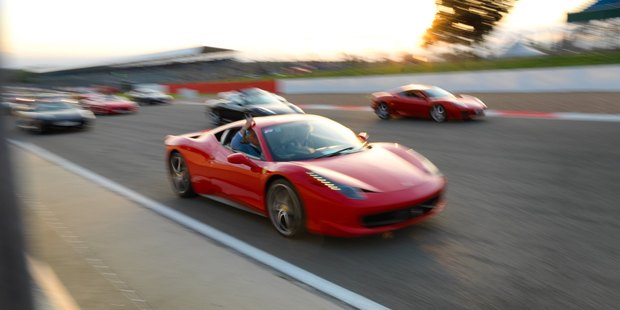 Ferrari fanatics should find out in the next day or two whether their mass parade at Silverstone last weekend will be a Guinness World Record.
An impressive 964 examples of Maranello's fineset metal took to the British circuit, to beat the previous record of 490 set at Japan's Fuji Speedway in 2008.
While some may argue that it's just a bunch of well-heeled sports car owners taking an opportunity to show off a bit, it looks likely that Guiness officials will accept the as a new record for the biggest parade of Ferraris ever organised.
Formula One driver Felipe Massa led the parade at the wheel of a 458 Spider.
"It was a really unforgettable experience," he said, "it's a great honour for me to be here for such a special event, with so many cars all brought together on one race track, which produced an unprecedented spectacle for all Prancing Horse fans."
This ambitious attempt, part of Ferrari Racing Days, saw Ferrari donate £5 for every car in the parade to BEN, a British charity that supports employees from the motor industry and their families.
Also taking part in the parade was Marc Gene, who is attending the event as a special coach for drivers taking part in the F1 Clienti programmes.
There was also an opportunity for spectators to admire the entire range of Ferrari cars, including the gorgeous F12 Berlinetta, the most powerful Ferrari road car ever built.
Organisers believe that all necessary conditions were met for a world record to be ratified and put before the Guinness World Records Limited Commission, and expect an answer by 'the end of the week', UK time.
- nzherald.co.nz