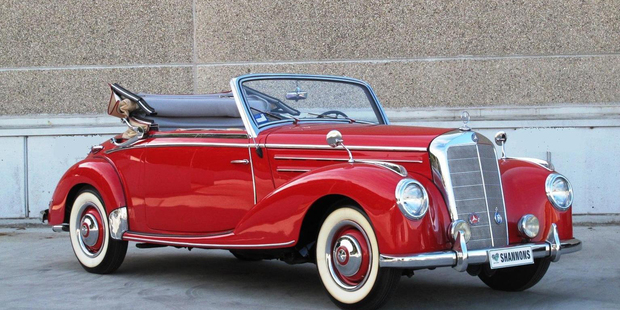 A 1952 W187 Mercedes-Benz 220A Cabriolet in pristine, fully restored condition is an early highlight of Shannons Sydney Spring Classic Auction on October 22.
Introduced at the Frankfurt Motor Show in 1951, the W187 was sold as a sedan, a coupe and in two cabriolet models - the two-door 220A, of which only 1278 were built and the four-door 220B, both powered by a 2195 cc straight-six engines producing 60 kW.
The rare left-hand-drive car being auctioned has led a sheltered life since it was restored and is expected to sell for A$90,000 to $120,000 ($115,000 to $152,000).
Also for sale is a desirable and collectible 1966 Sunbeam Tiger Mk I convertible.
Developed in the United States from two prototypes build by Carroll Shelby and Ken Miles, who fitted a 122kW, 260 cubic (4.2-litre) Ford V8 engine into a re-engineered Sunbeam Alpine body shell, the Tiger was in effect a clone of the famous AC Shelby Cobra.
It was launched in 1964 and built by Jensen Motors in Britain, although a small number were assembled in South Africa from CKD kits. Production of the MK1 Sunbeam Tiger ran from June 1964 until December 1966, with about 6550 built. But few made it to Australia. The four-speed manual and well-presented Tiger Mk I with its removable hardtop being auctioned was imported 18 months ago from Britain where it is understood to have undergone a bare-metal restoration in 2003.
"Given the model's blue chip heritage and scarcity worldwide and because they rarely change hands on the open market, a Tiger in this condition represents a great opportunity for collectors," said Shannons national auction manager, Christophe Boribon, who expects it to sell in the A$48,000 to A$56,000 range.
From the 1980s comes a now rarely seen two-door Volvo 242 GT.
Going some way to alter the perception of Volvos as performance cars, the 242 GT was the forerunner to the 240 Turbo that won the Australian Touring Car Championship in 1986.
Introduced in 1978 to compete with BMW's sporty 3-series variants, it received many updates during its lifespan, including a larger 2.3-litre, 104kW version of the B23E four-cylinder with fuel injection and a four-speed manual transmission with overdrive.
The very well-presented 1980 model being auctioned has had four owners and was thoroughly restored by the previous owner in 2007, including a full engine rebuild to factory specifications.
With only 600 brought into Australia over three years, the 242GT is a rare and interesting sight on our roads today, and makes for a reliable classic that stands out from the crowd.
It is being offered, with no reserve, and a guiding range of A$8000 to A$12,000.