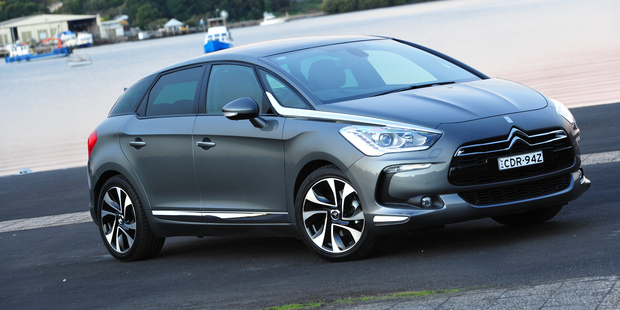 After a low profile in New Zealand in recent years, Citroen is ready to make an impact here with the launch of the new DS5.
Inspired by the striking C-SportLounge concept car, the DS5 has already won the 2012 Car Design of the Year, presented by Car Design News for its aesthetic styling achievements, while Top Gear UK made the DS5 its 2012 Family Car of the Year.
Power for the Citroen DS5 comes from a sophisticated 1.6 litre turbocharged engine developed with BMW which produces 115kW and 240Nm of torque at just 1400rpm, which, matched to an electronically controlled six-speed automatic gearbox provides the DS5 with a 0-100km/h time of 9.7 seconds and a combined fuel consumption figure of 7.3 l/100km.
The Citroen DS5 arrives as a single, fully equipped and specified model that is powered by a responsive turbocharged engine matched to an advanced six-speed gearbox and priced at $59,990.
The DS5 comes with such standard features as the glass sunroof that comes in three sections, each with its own sun blind; front and rear parking sensors are backed by a rear parking camera; the automatic headlights also have an automatic high beam function.
That list also includes features usually only found in expensive luxury cars: full colour head up display that provides vehicle speed, cruise control status and navigation instructions; electric front seats with memory and massage functions for the driver's seat; a cooled compartment for food and drinks; a full alarm system and dual function Xenon steerable headlights; LED interior mood lighting.
The DS5 sits in a unique market position between core 'D' segment models with its ability to match the rational purchase choices such as the Volkswagen Passat and Honda Accord but also with the style and personality to counter the heart-driven models in this sector such as the Audi A4, BMW 3 Series and Volkswagen CC.
Cabriolet set to steal more hearts
At the 2012 Paris motor show, Citroen will unveil the latest advance in the DS line, DS3 Cabrio, a cabriolet version of the multi-award winning DS3 that uses intelligent design to make top-down driving considerably easier and more enjoyable.
Since its launch in 2010, DS3's distinctive style and enhanced personalisation options have won the hearts and minds of both public and press. DS3 has already generated a string of awards, over 180,000 sales worldwide and a line of special editions and new versions including DS3 Racing and DS3 Ultra Prestige.
A striking addition to the DS3 range, DS3 Cabrio features all the hallmarks and thrills of DS3, with bold styling, sophisticated refinement, extensive personalisation and enjoyable handling, combined with the pleasure of al-fresco driving.
Continuing DS3's personalisation options, three soft-top roof styles will be available - black, infinite blue and a DS Monogrammed design. An innovative 3D rear light signature and original tailgate opening action add to the refinements.