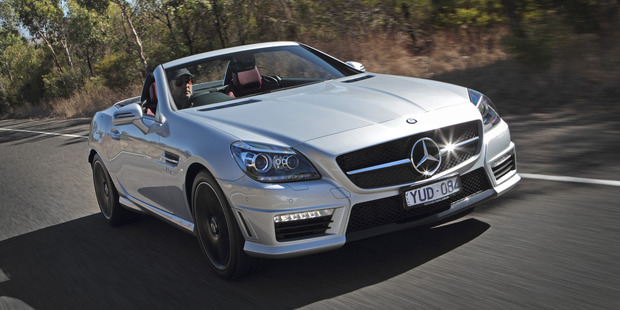 New 5.5-litre V8 engine puts the SLK 55 AMG into the true supercar class
Whatever happened to German precision and semantic simplicity? Once upon a time, Mercedes-AMG bootlid badges told you everything you needed to know about your car. In the mid-1990s, for example, you knew that a C36 AMG had a 3.6-litre engine under the bonnet. An SL 73 AMG had a 7.3-litre. And so on.
Things stopped being simple at the AMG Badging Division some time ago.
Until recently, the core engine for AMG models was a naturally aspirated 6.2-litre V8. Cars using this engine carried the '63' designation and even had '6.3' emblazoned on their front guards, despite being 100cc short on capacity.
It was all to pay tribute to the legendary 300 SEL 6.3 from the late-1960s, apparently.
Anyway, the latest engine in AMG-welt is a high-tech 5.5-litre V8, most commonly enhanced with twin turbos. Most of these models still carry the '63' badge, however - such as the ML 63 AMG tested in these pages - although at least the '6.3' label has been removed.
In its place is one that says 'biturbo', which is at least technically correct. So they do try sometimes ... as long as it sounds cool.
In the midst of all this confusion, you have to regard the new SLK 55 as a breath of fresh air. Because it does have the new 5.5-litre V8 engine (sans turbos) and it does say just that on the bootlid.
The SLK 55 AMG is also refreshing because it's old-school and unique. It's a roadster in the classic long-bonnet, short-cabin form, rear-drive and powered by a naturally aspirated engine. Sounds tantalisingly simple. And it's special because no rival maker has dared to shoehorn a massive V8 engine into a tiny two-seater. You have to admire that.
Power-to-weight means the SLK 55 AMG is properly supercar-fast: 0-100km/h in 4.6 seconds, even without those twin-turbochargers. Little wonder: even in this specification, it makes 310kW/540Nm. Sounds outrageous, too, with flaps on each side of the sports exhaust that open up to 15, 30 and then 50 degrees at full noise.
Yet Mercedes-AMG also claims the SLK 55 engine is the most economical production V8 petrol engine in the world today, with a combined fuel-economy figure of 8.4 litres per 100km. This is possible not just by conventional technologies such as direct-injection, but because the SLK powerplant has AMG Cylinder Management, which shuts down four of the eight cylinders under light load.
It's not new technology, of course - it's already used by everybody from Audi to Chrysler - but it's still a first for an AMG machine.
The Cylinder Management works between 800-3600rpm and you have to have the car in the least aggressive of its three driving modes, 'C', which used to stand for Comfort but now apparently means 'Controlled efficiency'. It's absolutely seamless, although an indicator appears on the dashboard to let you know your V8 roadster is running in sustainable mode. The engine still produces up to 230Nm of torque in four-pot mode.
The SLK also runs a stop-start system, although - like the Cylinder Management - it's active only in C-mode.
All worthy stuff, but how interested are you? Exactly. Modern AMG vehicles are about offensive performance and (this is a relatively new thing) exhilarating handling. Despite being based on the rather delicate little SLK roadster (which starts at $88,500 in 1.8-litre form), the 55 AMG is pumped up in all the right places. There's the monster engine, a special AMG steering system and modified suspension. The stability control features three stages, including completely off for track driving, and the AMG braking system features 'torque vectoring', which helps steer the car through fast corners by subtly applying brake pressure to one side or the other.
No, the SLK 55 is not nimble like a Mazda MX-5 or Porsche Boxster. It's not supposed to be, because it has a scary V8 up front, it's only available with a seven-speed automatic gearbox and it has lots of rubber at each corner. It's a wind-in-the-hair muscle car that's still compact enough to be catapulted along narrow backroads with confidence. It might not dance all over the road, but it certainly sticks to it and goes exactly where it's pointed.
As you'd expect of a proper AMG vehicle, the SLK 55 is not short on bling. The cabin is beautifully built, but all that silver could be considered a little overpowering. Standard equipment includes sun-reflecting Nappa leather upholstery, Harmon Kardon surround-sound audio and Airscarf neck warmers.
The Vario folding roof remains a big selling point for any SLK, but if you're spending $169,100 on this AMG machine, why not find another $4500 for the latest model's USP: a panoramic glass centre-roof panel with so-called Magic Sky Control, which can be changed from light to dark at the touch of a button? This is a car of contrasts, after all.
The bottom line:
Not the most nimble roadster, but surely one of the most exciting and unique. Star attraction is still the magnificent thing sitting under the bonnet