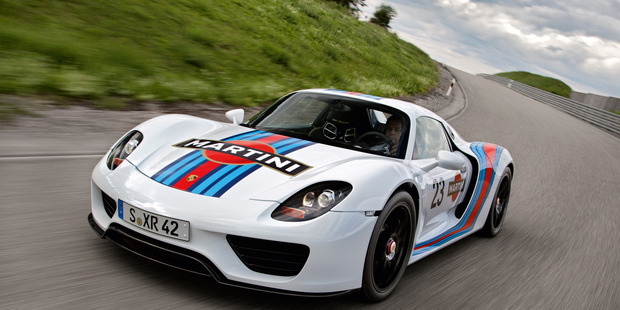 Porsche's 918 Spyder looks the part as it starts its development run.
Tomorrow's high performance car technology has been dressed in one of yesterday's most famous racing liveries as Porsche has embarked on the next phase of development for the 918 Spyder -- an assault on the 20.8km long Nordschleife of the Nurburgring.
In historic Martini Racing colours, Porsche is aiming for a Nordschleife lap time of less than 7 minutes and 22 seconds for its innovative super sports car with plug-in hybrid drive. The Nordschleife plays a critical role in the tuning of all Porsche sports cars.
The 918 Spyder combines a high-performance 3.4-litre V8 internal combustion engine with electric drives at the rear and front axles to achieve extraordinary driving performance and excellent efficiency.
Combined power output of all three drives is about 595kW - the V8 engine contributes about 425kW boosted by a 90kW hybrid module on rear axle and 80kW electric motor on front axle.
Performance targets for the 918 Spyder include a 325km/h top speed with 0-100km/h acceleration in less than 3.0secs.
The car's combined cycle fuel consumption is forecast to be about 3.0-litres per 100km, which is equivalent to CO2 emissions of about 70g/km. It has a pure electric top speed of 150km/h and electric driving range of 25km.
Other features of the 918 Spyder including monocoque body construction using carbon fibre reinforced polymer (CFRP) which reduces the car's weight and delivers remarkable rigidity and precision.
Other highlights are the car's fully variable aerodynamics, adaptive rear axle steering and "top pipes" exhaust system which routes the pipes upwards.
The latest test vehicle is now turning laps in the legendary Martini Racing look of many historic Porsche race cars, particularly from the 1970s.
More than nearly any other race car design, the Martini Racing look quickly attained cult status. As early as 1971, a Porsche 917 won the Le Mans 24 Hours with the support of Martini and the brand was the official partner of the Porsche factory team between 1973 and 1978. The attractively designed Martini Porsche race cars included 908, 917, 935, 936 and various 911 RS and RSR models.
Notable Martini Porsche successes included victory at the Targa Florio in 1973, winning the Sports Car World Champs in 1976 and overall victories at the 24 hours of Le Mans in 1976 and 1977.
Carrera 4 announced
Porsche this week announced its new 911 Carerra 4, promising better handling and more grunt.
It retains the wider stance than the two-wheel-drive versions.
There will be four variants on offer, 4 and 4S models in coupe and cabrio, when it is revealed at the Paris Motor Show later this month.
The car will use the seven-speed PDK (Porsche Doppelkupplung) robotic clutch gearbox.
The 3.8-litre boxer Carerra 4 Coupe produces 257kW, giving it a 0-100km/h time of just 4.7 seconds with a top speed of 285km/h - the cabrio gets a slight penalty there, with 282km/h at the far end, as if that matters.
The 4S is for those more serious about performance, with a 4.1 second 0-100km/h time and a 299km/h top speed from its 294kW tune of the flat six.
Porsche New Zealand says deliveries will begin early next year, and pricing will be announced closer to the time.