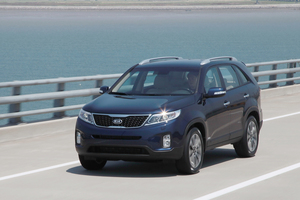 Kia's upgraded Sorento will be making a strong hit at the crowded SUV-crossover segment when it debuts at the Paris motor show next month.
Based on a new platform, the Sorento goes on sale internationally, including New Zealand, later this year, incorporating enhanced powertrains for better fuel economy with lower emissions. The Sorento's designers have improved the ride, handling and refinement with additional convenience and safety features, plus a fresh, new look.
"Since its introduction in 2009, the second-generation Kia Sorento has achieved more than 620,000 sales around the world. This success came after the global sales of almost 900,000 units achieved by the original 2002 Sorento which was a 'landmark' vehicle in the history of our brand, starting the process of changing public perception of Kia as a maker of small cars," commented Thomas Oh, Kia's executive vice-president.
The vehicle's front and rear has been restyled to offer larger areas of body-colour surface.
Inside, numerous enhancements create a refreshed ambience. Access is improved by the lower ride height, and the cabin floor has also been lowered for greater legroom.
The upgraded Sorento will be manufactured in Korea with a wide range of petrol and diesel engines (from 110kW to 205kW).
Acknowledging consumer trends, Kia has fine-tuned the Theta II 2.4-litre petrol and 2.2-litre diesel engines. The new model will feature a six-speed transmission (manual or automatic) and a choice of 2WD or 4WD.
When it was introduced in 2009, the second generation Sorento was awarded a 5-star Euro NCAP safety rating. Today, official crash test standards in Europe are much tougher and Kia engineers have reviewed the Sorento's bodyshell structure and safety equipment to ensure high safety standards.
Active safety technologies will include ESC (electronic stability control), a reversing safety camera mounted on the tailgate with a 130 degree wide-angle lens, and HAC (hill-start assist control), which prevents slip-back during stop-start driving on inclines.
Customers in selected markets will be able to specify radar-based BSD (blind spot detection), LDWS (lane departure warning system) using a camera above the windshield and SPAS (smart parking assist system) with ultrasonic sensors to control automatic parallel parking.