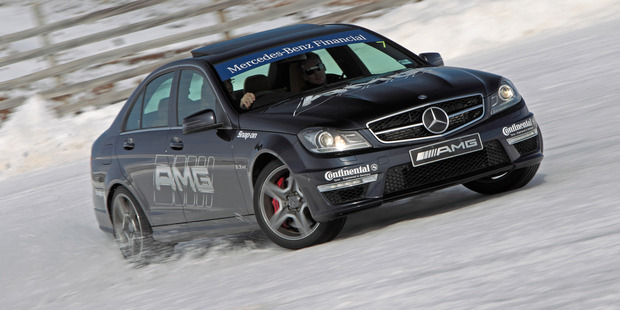 Accelerate across the snowfield. Hurl it sideways through those cones. Flick into sinuous drifts through the slalom, then powerslide round the last cone and return. Put your foot down; get those rear wheels spinning. Awww, do I have to?
Yep. And slalom this $169,000 Mercedes on a sheet of ice rimmed by frozen snowbanks, the AMG-fettled engine delivering 600Nm to rear wheels that, despite the snow tyres, are incapable of maintaining traction. "Whatever you do, don't stop," we're told. "Stop and it's too slippery to push you out." Er, okay ...
That's what an AMG day at the South Island's Snow Farm is like.
Other companies use four-wheel-drive cars to ensure they'll survive the depredations of testosterone-addled motor noters. But Mercedes shows us how dangerous snow driving can be, and how snow tyres, a little know-how and plenty of rear-drive power can render slick surfaces driveable fun.
This is the first time AMG's flying circus has come to the Southern Hemisphere's winter proving ground, and it's fielding the same cars and race-driver instructors it used at Hampton Downs, and other race tracks throughout the Asia Pacific.
Three days, 400ha of privately owned proving ground, 30km of compact snow tracks, and a lucky handful of owners, dealers and writers from Australia and New Zealand let loose in $3.5 million of C63 AMG sedans, coupes and wagons.
Each is showroom-standard, bar these Continental ContiWinterContact TS 810 Sport tyres, a standard fitment for winters in Europe's far north.
These are extreme conditions. At sub-zero temperatures you cannot get heat into brakes and rubber, though we'll work the diffs and steering racks pretty hard - and the tyres, that vital link between car and snow.
Three things make them special. Treads scored by slits to distort when stressed, creating edges that dig in. Malleable sidewalls to increase the contact patch, with a softer compound that remains flexible below 7C, when standard tyres harden. And a wide, deep tread to pack snow in. Because every snowflake is unique, they interlock, hence snowmen and snowballs. The tread holds snow to create snow-to-snow friction for grip, albeit tenuous grip, for it's lost the moment you hit ice.
We're told winter driving is about being prepared, with snow tyres; about slowing down as mistakes happen faster at speed. Even 70km/h feels insane in these conditions.
Look ahead, double the stopping distance and brake early, drive smoothly, avoid simultaneous steering and braking, understand where drive is applied - and learn how to control a skid.
We'll drive with the traction control off, learning to skid, regain control, then lose it deliberately when, where and for however long we want to using the spinning rear wheels to steer us.
With insufficient spin we just accelerate, and when things inevitably turn pear-shaped the result is very lurid indeed. I suspect I feature large on the bloopers reel ...