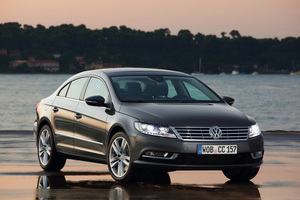 What is it?
Volkswagen's CC is pitched as an affordable four-door luxury coupe.
It certainly looks the part with its swooping roofline and low glass-house, delivering the restrained interior and pleasant materials you expect from a $61,750 Volkswagen with a body that's a cut above.
Its 125kW/350Nm 2.0-litre turbo-diesel engine, matched to a six-speed double-clutch transmission, is a goody, with plenty of punch at low- and mid-range revs, yet refined during everyday driving or highway cruising, too.
We like
Love the comfy seats. Sharp redesign for the car's face and tail along a purposeful profile will have everyone thinking you've come into money. Stop-start and battery power regeneration keep thirst pinned to a claimed 5.5l/100km.
We loathe
Boot's eyebrow-raising depth and cavernous 532-litre volume wasted by shallow opening that relegates boxes that would have fit to the back seat, instead.