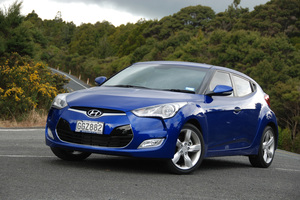 Talk about the girl next door who's a hottie on Saturday night; Hyundai's Veloster has proved a bit of a revelation as an everyday runabout - but nearly got me arrested.
It certainly looks sharp. City suits gaze in frank admiration, teenage boys crane necks and even boy racers ogle - yet it's not so OTT that it'll frighten their mothers and grannies.
Or their wallets, as the car uses a normally aspirated 1.6-litre petrol engine matched to a six-speed double-clutch auto that'll slur economically through cogs when cruising, averaging around 7.4l/100km during my commute, despite the hills I traverse. Try to sprint from lights or indulge in a bit of hoonery and the modesty of those 103kW/167Nm power figures is obvious, and as disappointing as the underwhelming soundtrack, given the promises made by Veloster's design.
But keen drivers will find there's much to like on bendy roads, for the MacPherson strut front and torsion beam rear suspension feels gloriously supple, the car taking corners with a joi de vivre that eggs you on, firing it into corners with increasing confidence, balancing it on the throttle as much as the wheel, flicking the gear paddles if you must but otherwise rarely needing to scrub off speed.
Even a pair of intrepid back-seat passengers modified their criticism of the car's firm ride, experienced from two shapely pews sitting almost over the rear axle. The control it imparted through tight bends delivered a lesson in handling dynamics and an understanding of the comfort-handling compromise cars like this must make.
Yet understanding Veloster's quirky four-door format was another matter. That single pavement-side door led to criticisms from passengers of the restricted view from the back. They'd expected accommodation on a par with five-door hatches. But this is a three-door with extra benefits. That single rear entry ensures it's easy to get in and out of, or reach extra bags and extends the 320-litre boot without having to fold the seats.
Someone who rarely carries rear passengers will find the back more versatile without having to pick a boring five-door format.
My brush with the law? The large multifunction screen up front includes a mode that awards points for eco-driving over 10-minute legs. Maintain speed on a light throttle to rack them up; over-application or lifting off the go-pedal knocks the tally back. Halfway through a potential record breaker I spotted a drink-drive check ahead. A stop would ruin my gold-medal run but I realised I wouldn't get far if I didn't, so settled for an also-ran result.
If you're after a car with power to match its attitude you won't buy this one. But Veloster's a looker that flatters a good driver on a demanding road, without forgetting everyday practicality and wallet-friendly fuel economy.
At $44,990 for the top-spec car, or $39,990 entry-level, it's an automotive Armani suit with tracksuit comfort at a K-Mart price.