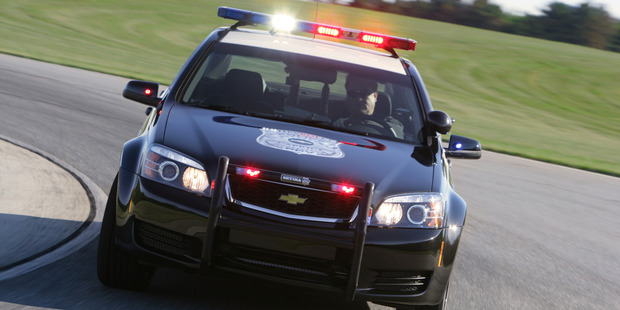 Holden last month enjoyed some success with its export programme to the United States as parent company General Motors delivered a record 500 Chevrolet Caprice police patrol vehicles to various enforcement agencies.
The Australian-built Commodore-based PPV police car's July sales boosted the year-to-date tally from 1180 to the end of June to 1680 at the end of July.
With sales of Commodore down almost 26 per cent in Australia this year, the American sales are providing valuable through-put at Holden's Elizabeth factory.
GM North America said in a statement announcing its July sales that "strong police vehicle deliveries to state and local agencies helped drive a 115 per cent increase in government sales".
Sean Poppitt, Holden's corporate affairs manager for South Australia, where the car is built, said some delivery circumstances had boosted the July result, but he acknowledged that it was a good number and reflected the high esteem in which the car was held by US police.
"Given the current climate with the high Australian dollar, it is certainly a good result," he told GoAuto.
"An exchange rate at $1.05 does make it difficult. We will continue to chase exports where we can, but it has to be profitable.
"There's no doubt that the Caprice PPV is more expensive than its main competitor [the Ford Interceptor], so this reflects how well received it has been over there."
Ford, which has long dominated the police car market with its now discontinued Crown Victoria, sold 1106 of its new Taurus-based "Police Interceptor Sedan" in July, taking year to date sales to 3962, while Chrysler does not break out numbers for its Charger PPV from total Charger sales.
The Caprice PPV has also been getting good reviews from US police squads that have recently taken delivery of the 6.0-litre V8-powered cars.
Sergeant Max James, from Yakima County Sheriff's Office in Washington State, which took delivery of its first cars in July, wrote to GoAuto to compliment Holden on what he described as a fantastic car.
"I have driven this car briefly in town [and] it appears quick and nimble, with great brakes," he said.
"The seats are very comfortable for me (6'2" tall) and I suspect they will be a dream to work in for a 12-hour shift.
"They remind me of the 1994-1995 Chevy Caprice 9C1 with the LT1 engine, which was my favourite police car. It is also reminiscent of the 1970s Dodge or Plymouth 440 cid (7.2-litre) cars, only with great brakes and suspension.
"Thank you Holden; this car is fantastic."
James' highway police colleagues at the Washington State Patrol have gone on to Facebook with a photo to mark the commissioning of its last Crown Victoria, which has served them for 25 years, and the passing of the baton to the first new Caprice PPV.
Kentucky State Police also presented the first of its 125 Caprice PPVs last month - each costing US$25,400 (A$24,045) according to the department - as it progressively replaces its aging fleet of 1000 Crown Vics.
"Our current fleet is subject to a rigorous maintenance schedule designed to extend the working life of each vehicle as much as possible," said Kentucky State Police commissioner Rodney Brewer.
"However, law enforcement applications are extremely hard on vehicles. To ensure that our officers can continue to respond to public needs in a safe and effective way, we'll be updating our fleet on a soft conversion basis as current vehicles wear out beyond repair and as funding becomes available."
And - great news for fans of The Simpsons - it appears Chief Wiggum will soon be driving a Holden as Springfield Police Department (at least the one in Oregon) will next month take delivery of the first of five Caprice PPVs it has on initial order.
In nearby Eugene, Oregon, officer Eric Eason, who is on the committee involved in testing the Caprice, told local TV station KMTR that the GM product was smaller than the Ford Crown Victoria, but had much better fuel consumption, more horsepower and, most importantly, better brakes.
"It's just a modern vehicle [and] will make us a more capable department," said Easton.
"The Crown Vic was so antiquated and so out of date - for people who don't drive these cars [the Crown Vic], I would say it's something like driving a 1950s-era car."
Police in Carlsbad, California, near San Diego, outfitted its first seven Caprice PPVs and numerous others - including known agencies in Seattle and Massachusetts - have placed orders and expect deliveries within the next couple of months.
Haverhill Police Department in Massachusetts abandoned the Crown Victoria four years ago in favour of the Dodge Charger, but reliability issues and some advantages for the Caprice PPV has seen them turn to the Holden-built product.
Lieutenant Robert Pistone said officers liked the Charger's speed, handling and looks, but that mechanical problems had prompted them to look at the Caprice.
He said most of the original eight Chargers the city purchased either have blown engines or blown transmissions and that about half the fleet was taken out of service. "Once they reached 80,000 to 90,000 miles [about 130,000 to 145,000km], they started breaking down more frequently than the Crown Vics," said Pistone.
"Only three are still in regular service and a lot of the ones that died are being used for parts."
Things may be a little tougher for GM in Texas, though, as the manager of Harris County Fleet Services, Keith Branner, who oversees nearly 1800 patrol vehicles, sat on a Ford review board that determined how the Crown Victoria would be replaced. Mr Branner said the county would look at buying an assortment of vehicles, including the Chevrolet Tahoe PPV, the first pursuit-rated SUV in the US. "When the vehicle's life cycle is over and you go to auction, you might only get $1000 or $2000 for a Crown Vic, but you will get $4000 to $5000 for the Tahoe and that's a huge difference."
- Go Auto