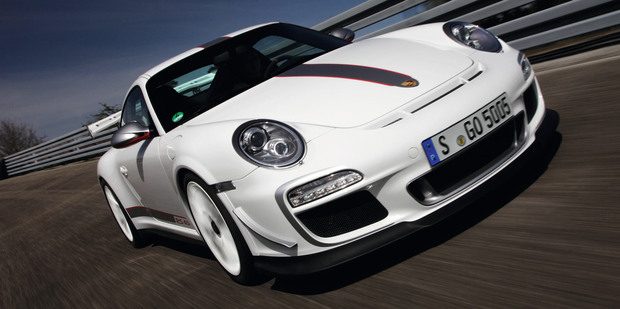 Stroll through any Porsche dealership and you'll experience lust and sticker shock. All those gorgeous new 911 Carreras, from shiny S models to enticing convertibles, tugging at your heartstrings and wallet.
What you won't find in those showrooms is the purest and baddest 911 of all, the $400,000-plus GT3 RS 4.0. A massive 373kW (500hp) and 459Nm from a naturally breathing 4.0-litre six-cylinder engine, it is a lean racing machine. It's street legal, but only just.
This special, limited-production 911 belongs to the previous generation known as Type 997. Porsche has since moved on to a wider, longer foundation, the 991.
The company is slowly rolling out the new generation 911s on that platform and we are likely to see the all-new 911 Turbo as a 2014 model.
However, it'll be a long, long time before we get a new version of the GT3 RS 4.0.
And it's unlikely that the GT3 model will come with a manual transmission.
So the GT3 RS 4.0 is not only the last of its generation, it is the last of its breed. Only 600 were made - of that only two are in New Zealand, one in the South Island and one in Auckland.
Over four very lucky days, I got my hands and gas-pedal foot on an all-white model in Los Angeles. As tested, its price was US$204,950 ($252,000). That's a heap of money for a 911 (the New Zealand pricing was a shade over the magic $400,000 mark).
Not long after my drive, it was sent to a dealership in Dallas and has been sold. I'm still mourning its passing.
Why the fuss? Example: I arrived at a business park just outside the city limits to give a ride to an entertainment-lawyer friend. A stately fellow in his 50s, he is chauffeured to work every day in his Bentley and is indifferent to cars.
He took a look at the broad rear wing - big enough to fit on a small aircraft - and suddenly looked apprehensive. "I've never been in a car like this," he said as he buckled up.
The car's front end is exceedingly low, so I took care pulling out of the parking lot. I straightened the steering wheel and dropped my foot. The rear wheels hooked up and the resulting force was like a jab to the solar plexus.
The 4.0-litre engine is the same one found in Porsche GT3 RSR race cars, with dry-sump lubrication and titanium connecting rods. Its raw sound filled the cabin, loud.
In second gear, we were at the speed limit, reaching 100km/h in less than four seconds. Third gear and I slammed on the brakes - it was like deploying a parachute.
The whole experience lasted less than 10 seconds. My companion's face had turned stoplight red. "That's enough," he managed. We turned around and headed back.
The GT3 RS 4.0 belongs on a racetrack. Sadly, I had no track available to me. Nonetheless, driving in the famously car-centric town was good fun, even in traffic.
Porsches are so common in Los Angeles that nobody takes much notice. All 911s look basically the same. It takes special knowledge to distinguish between the 20-something variations consumers can buy.
But the GT3 RS 4.0 is clearly special. There's that rear wing and a side logo. More than that, though, it looks whittled down and purposeful. Kerb weight is just under 1360kg. The Porsche hood ornament is a sticker rather than a medal piece - to save weight. It's a wolf in wolf's clothing.
Locals snapped pictures. Valets became animated. I blithely drove to a press preview of a new electric vehicle. Auto journalists gathered around the GT3, temporarily ignoring the vehicle they'd come to see. But the proof of excellence lies in the car's perfectly powered, beautifully weighted drive.
An LA-based friend had long been telling me about his favourite canyon road, a one-way from the top of the mountains to the Pacific. Upon seeing the GT3 he offered a deal: he'd give up the location for a ride-along. Done.
After a labyrinthine drive along ridge roads, we turned down a narrow asphalt route which scoots right off the mountain and corkscrews downhill, broken up by hairpins and short straights. There was little in the way of a shoulder, and no homes or driveways. As a one-way, I could use the entire road.
Oh, those next few minutes. Less about speed and more about the gorgeous rhythm through the turns. The steering spoke to me, the short accelerations were explosive, the braking power boggled.
At the bottom of the road, I shut off the engine and just sat, alternately revelling and mourning. Hail to the GT3 RS 4.0, the last of its kind.
THE LAST MANUAL?
Porsche NZ boss Greg Clarke says it's unlikely that we'll see much in the way of manual 911s in the future.
"Porsche has openly discussed that going forward the 911s will all use PDK instead of traditional manual gearboxes.
"Ironically, there are some in the US market who are lobbying to keep a manual gearbox.
"But it's at the stage where the PDK is faster - if you want to go quick, it's better than a manual."
He said the pair of GT3 RS 4.0s that landed in New Zealand were snapped up as soon as the model was announced and quickly sold to customers.
He reckons at least one more of the $400,000 road-going limited edition would have sold in New Zealand.