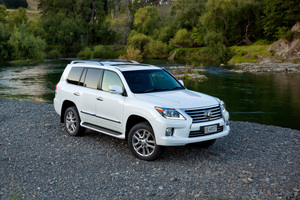 What is it?
Does the facelifted Lexus LX570 deliver the ultimate in climb-every-mountain luxury?
It's certainly over-the-top. The 5.7-litre V8 petrol engine averaged 17.8l/100km for the 400km I drove it. You'd use more if towing the 3.5-tonne allowance or when off-roading. It rides on 20-inch wheels, carries up to eight, protects them with 10 airbags and the cabin boasts mahogany-trimmed luxury that resembles an airliner's flight deck.
Full-time four-wheel-drive delivers rock, rock and dirt, mogul, loose rock, mud and sand settings; the crawl control will activate throttle and brake automatically while the driver just steers; there's 230mm of wheel travel to get you over almost every obstacle; and front, side, side mirror, front grille and rear cameras let you see where your expensive car's flanks sit in relation to gnarly rocks or unforgiving carpark posts. All this while your rear passengers watch DVDs on screens inset into the front seats and using wireless headphones.
We like
The way this luxury SUV focuses on the driver, sinking groundwards when the key-holder emerges to ease re-entry, lighting puddle lamps as you approach and automatically adjusting the seat and wheel as you clamber aboard.
And the confidence 2.7 tonnes of luxury SUV imparts as it heats, chills, entertains or otherwise cossets everyone.
We loathe
Despite the "sport" setting on the hydro-pneumatic adaptive variable suspension, it will always feel like a truck on the road; and underneath the electronic trickery, the facelift and the $196,400 price, it's still clearly just a Toyota - albeit a talented one.