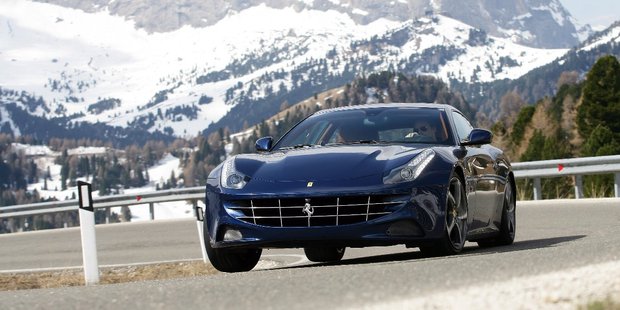 Let's be honest now: any recreational activity involving snow is ridiculous.
There's no rational reason to go anywhere near the stuff: it's very cold, affects your vision and is dangerously slippery. We do so because it's escapist fun, whether it's building the ultimate snowman or skiing extreme slopes.
So isn't it funny that when we talk about driving to the snow, it's sage advice about preparation, safety, and choosing a sensible vehicle that meets your all-weather needs. Really? Safety first, of course. But if we were being really sensible, we'd stay at home with a glass of mulled wine.
If I'm going to the snow, I'm going in something stupid, as befits the idea of, well, going to the snow in the first place. So here's a list of my top five crazy cars to take to the white stuff: absurd, yet all strangely capable. Well, most.
FERRARI FF
Not so much stupid, as stupidly expensive.
The FF costs $635,000 but is perhaps the ultimate ski-express. It's a front-engined V12 supercar in the classic Ferrari mould, yet it's also a proper shooting brake, with seating for four adults and space for their luggage
Oh, and it's four-wheel drive. The 6.3-litre engine drives the rear wheels most of the time, but torque is fed proactively and very quickly to the front whenever loss of traction seems likely.
If I may brag for a moment, I have actually driven the FF to the snow and it's fantastic in low-traction conditions. That's me in the picture. Just magnificent.
The car I mean; I do look a bit silly driving it.
SSANGYONG STAVIC
If looks could kill, the SsangYong Stavic would live forever. The styling was inspired by a superyacht (ah yes, you see it now) and so, apparently, was the handling.
It would be worth driving to the snow just to see the looks on the other holidaymakers' faces. However, the Stavic is also quite a useful thing: seven seats, diesel power and the option of on-demand four-wheel drive. The five-speed automatic gearbox even has a "winter mode". Yours from $44,990.
BENTLEY CONTINENTAL GTC
Another exotic. And why not? The Bentley Continental is, of course, a magnificent way to get anywhere before the poor people.
"Anywhere" includes snow, because the Continental does also have four-wheel drive to go with its searing performance.
You will note that we've gone all environmentally responsible and chosen the entry-level Continental, with the new twin-turbo 4.0-litre V8 engine. No point going for the monster 6.0-litre W12 when you'll just be spinning the power away on the slippery stuff.
You'll also note we've gone for the GTC convertible. Because it would be fun to arrive at the snow with your hair covered in frozen flakes.
Cheap entertainment for $375,000.
ARIEL ATOM
Speaking of winter wind in the hair ... this is not as silly as it seems. Quite silly, just not as silly as it seems. The Ariel Atom might be a road-registered track-day car, but I'm guessing it would also have a fair show at maintaining traction in the snow because it's rear-engined and rear-drive. Just guessing, as I said.
To drive an Atom in winter, you pretty much have to wear a helmet and full wet-weather gear anyway, which makes it an ideal skifield commuter: dress for the slopes before you leave home, then just jump out of the car and on to your skis when you arrive at the mountain. Your skis, by the way, can be conveniently strapped to the scaffolding that serves as the car's body structure.
Once upon a time, the Atom was imported into Australasia by a company called Open Wheeler Imports. Now it's distributed in Australia by International Motor Group, which has an agency in New Zealand.
So give them a call. Tell them Driven sent you to buy a new snowmobile.
FORD FIESTA
You know that Ken Block's Gymkhana web movies started from a car-jumping session in the snow, at New Zealand's own Southern Hemisphere proving ground, right?
Back then, Block drove Subarus. Now he drives a Ford Fiesta, either a WRC when he's rallying or a sort of hypercar version called the HFHV, when he's making those skiddy movies. Here's the thing: Ford doesn't actually make anything remotely like a Fiesta WRC for the road.
Not even the forthcoming one from the ST division.
But if you indulge in the delusion that a front-drive Fiesta would be a good thing to slide around on the ice and snow in, I can guarantee you'll get more sideways than Block ever dreamed of. If only briefly.