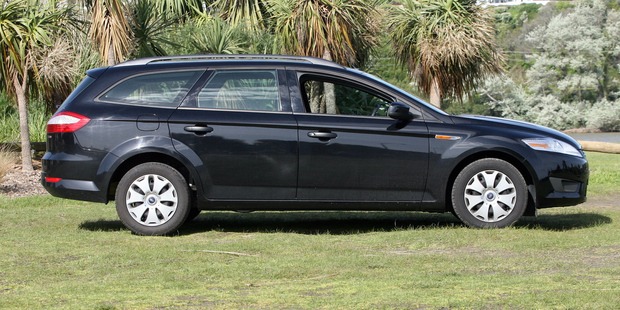 Mondeo comes out on top when looking for an affordable wagon.
The dilemma
Mark has a wagon-sized dilemma. He wants to replace his 2003 Mazda6 wagon but doesn't want an expensive European or Korean car.
"I want something similar as the Mazda6 but more economical. I've also been burned by high maintenance costs of European cars and am also a little weary of Korean cars, too," says Mark.
He's struggling to find a Japanese option that is an automatic diesel and is safe and either a wagon or hatchback.
"The closest I can find is a New Zealand-new Corolla five-door hatch, but they are only available in manual. A Skoda Octavia wagon might be an option but what are maintenance costs and reliability like?"
You only have to look at the additional cost of mechanical warranty insurance on European cars in comparison to the Japanese, Korean and Australian vehicles to acknowledge the potential for higher repair costs during ownership.
The Euros, however, often come with a better quality feel and ambience about them, along with a superior driving experience and higher spec levels all of which do attract buyers who don't want to buy into the mainstream market.
In comparison, the Corolla diesel will hardly get you overly excited.
The key is to be careful in your selection and remember the higher the spec level the more potential for future problems and expensive repair bills.
Diesel is great when it comes to fuel consumption and towing comparisons but don't forget other costs such as Road User Charges along with higher registration and servicing costs.
The budget:
$20,000
The shortlist:
Skoda Octavia
The Skoda brand is much underrated in New Zealand, with the Octavia being no exception. It has collected several motoring awards here over the years. To help dampen that risk factor, a New Zealand-new variant would definitely be my recommendation, along with a proven service history. One of the potential high risk areas as these vehicles get older is the DSG (Direct Shift Gearbox) transmission.
The internals are similar to a manual gearbox and it is designed to automatically determine and pre-select the next gear before the change happens so you can imagine the internal electronic wizardry which makes all that happen. My contacts say, while it's early days, overall they have had few problems with this transmission fitted to later model vehicles such as VW/Skoda. But they add that, because of the complexity of the transmission, it will be a major cost when a repair is eventually required.
Ford Mondeo (2008)
Available as a sedan, hatch or wagon the Mondeo is worthy of consideration. Has the European look and road presence along with high levels of refinement and safety.
Subaru Outback (2009)
It's blowing your $20K budget by a healthy margin but there is no harm in looking at other possible options. Subaru have worked hard in recent times to retain their industry point of difference which is their unique AWD and boxer engine design while improving on their one known weakness; high fuel consumption. The 2.0 litre diesel definitely overcomes that issue. No auto may be a downside, however the trusty manual is almost bullet proof.