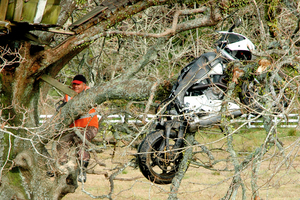 A man is in a critical condition after a motorcycle crash in the Bay of Plenty in which his bike was found dangling in a tree.
The man received critical head and leg injuries in the incident on State Highway 2 south of Opotiki on Friday morning.
He was taken from Whakatane to Waikato Hospital by helicopter, where he remained in the intensive care unit, said a spokeswoman.
Meanwhile, police said a suspected drink-driver nearly killed two women when she veered on to the wrong side of a bridge at 8am yesterday.
The female driver, "horribly affected by alcohol", crossed the centre line of Chesterhope Bridge, in Hawke's Bay, and crashed into an oncoming car.
A third car then smashed into one of the stopped cars.
Two women in their 60s, who were travelling in the car, had to be cut from the vehicle.
A Hawke's Bay Regional Hospital spokeswoman said one of the women was in a serious but stable condition, and the other was stable.
The driver of the car which crossed the centre line was also treated for minor injuries. The woman in the third car was uninjured.
Senior Sergeant Fred van Duuren said officers who attended the crash had been "concerned" about the offending driver's level of intoxication.
Police were still awaiting blood test results, but van Duuren said she would likely be charged with drink-driving.
Van Duuren said the two injured women could easily have been killed in the crash as they could not have turned out of the path of the oncoming vehicle on the narrow bridge.
The road was closed for two hours.
An 18-year-old Napier man led police on a chase which allegedly reached speeds of up to 185km/h through Hawke's Bay on Friday night.
He was spotted speeding on Swamp Rd, north of Hastings, shortly after midnight. He is alleged to have led officers on an eight-minute pursuit that ended when he pulled over at Napier Golf Course.
The man was arrested and charged with reckless driving, driving at a dangerous speed, failing to stop for police and resisting arrest.
He is to appear in Hastings District Court next week.
- APNZ