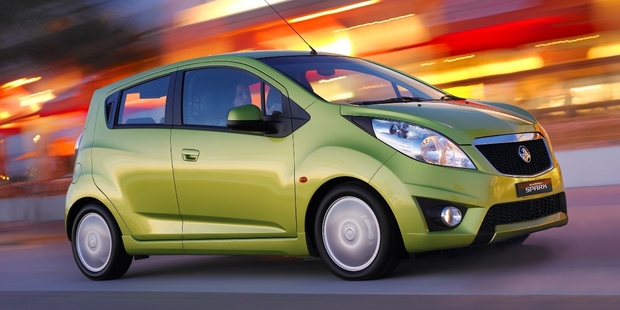 Twenty thousand dollars: a nice round amount and enough to give you huge freedom of choice in the used car market. But did you know that $20k can actually buy you a brand new car? That means new-car smell, new-car warranty and the satisfaction of owning a big-ticket consumer durable that nobody else has used and/or abused.
Your $20k new car doesn't have to be an appliance, either. Some are actually fun. Like these:
Holden Barina Spark: Fun is a relative term, of course. But with the Holden Barina Spark you can be mildly amused at the cuddly toy exterior, not to mention the dashboard allegedly inspired by a motorcycle instrument panel.
No need to skimp with this little Korean car: you could go for the entry model at $17k, but why deny yourself when $19,490 buys you the flagship Spark CDX, with 15-inch alloys, body kit, roof spoiler and so-called Sportec seat trim.
A 1.2-litre petrol engine with just 59kW/107Nm is shared by both. You can't afford to be lazy with this car and it won't allow you to be either: a five-speed manual is the only transmission. No automatic option.
Kia Picanto: Proof positive that this kind of money can actually buy you a proper car. The Picanto is a good-looking, well-packaged and fun-to-drive little thing, with a strong 1.2-litre (or "1250" as Kia calls it) powerplant making 64kW/123Nm.
The base Idle Stop Go (ISG) manual model is the eco-star, achieving 4.3 litres per 100km in the Combined cycle. It's also the most fun, since the three-pedal transmission allows you to exercise the car in the appropriate way.
The manual is just $18,590, so you can still opt for the automatic and come in under budget: $18,990. The two-pedal gearbox is only a four-speed, it gulps an extra litre per 100km and takes some of the entertainment out of the car. But it's the one most people buy. Shame, but we understand.
Suzuki Jimny: If Suzuki New Zealand still had a Swift under $20k it would be top of the list here.
As it stands, the entry Swift is still only $20,500 and it's a fantastic car - certainly much better than the slightly smaller Splash and minuscule Alto. So find that extra $500.
But we do feel duty-bound to also tell you that $19,990 buys one of the most capable, heavy-duty off-road vehicles on the market: the very light Suzuki Jimny (yes, they do still make it). Its 1.3-litre engine makes 63kW/110Nm, it has a manual gearbox with low-range, rigid axles for maximum articulation and it will basically go anywhere.
It's also really cute, like a baby mountain goat.
Great Wall Motors V-240: Well, this is embarrassing: the GWM V-240 single cab chassis was $19,990 when we thought of this story idea. Sounded pretty cool, being able to buy a genuine light-commercial for less than $20k. As it stands, this Chinese model is now $20,990, but we're going to press on regardless. Today's the last day of Fieldays and if you can't get another $991 off your V-series we reckon you've got a serious problem.
At this price the V-240 comes with 2.4-litre petrol, not diesel, power. And it's a single-cab chassis, no fancy back seats or wellside tray.
But think of the fun you'll have: build a makeshift motorhome on the back, organise a hayride for your friends, whatever. Everybody loves a pickup truck.
Something used: Let's face it, that new car smell is really just chemicals and dashboard moulding-extraction material.
It's not a priority for everybody. Put that $20k to work in the used-car market and the world is your oyster.
There's no point naming anything because there's really no limit to what size and shape you could have. Which is where we came in ...