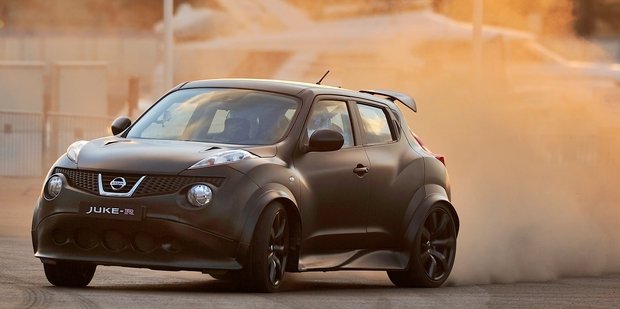 The Juke-R - Nissan's mad fusion of its funky urban hatch and its flagship go-fast monster, the GT-R - is set for production.
Nissan was adamant that the Juke-R was purely an engineering exercise and would never be offered to the public. Thankfully, the Japanese auto giant has changed its mind.
It may not be the most super-looking supercar, but its performance at a Dubai race event won the mad hatch some fans when it took down a line-up of high-end machines in a special race event.
Nissan has released this new video called Desert Nemesis showing PlayStation GT Academy winner turned race ace Lucas Ordonez pedalling the Juke-R around at pace after his team picked up a podium place at the Dubai 24-hour-race.
The cameo appearance reportedly sparked three firm orders for a car that Nissan vowed would never be built as a production vehicle. There were persistent rumours of a further 20 offers for the car after its earth-shaking appearance.
Nissan's Gareth Dunsmore said: "The Juke-R was originally intended as a one-off concept, but the reaction we had to the car in Dubai was amazing.
"With such a strong reaction, and with three genuine offers on the table, we decided we had to make the car a reality. We can't let down enthusiasts who are this keen to add to their collection of cars.
"The Juke-R has become something of a phenomenon and I'm enormously proud of the impact it has had."
The very limited production model will use 2012 drivetrain components, rather than the 2010 set-up the powered the 260km/h concept, and packs in the GT-R's 405kW 3.8L forcefed six, and includes the tech goodies that underline the GT-R as Nissan's cutting edge showpiece.
Pricing on the Juke-R is yet to be announced but is likely to be higher than the GT-R, making it a collectable slice of hatchback madness that will retain value due to an extremely limited production run.
Some US reports have guesstimated pricing at US$590,000 or even higher - that's a whopping $737,000 in our money.
Nissan New Zealand MD John Manley recently told Driven that there's a good chance the tweaked Juke Nismo, recently shown at the Geneva Motor Show following its concept-form debut in Tokyo last year, could make its way down here.
The Juke-R putting in an appearance is far less likely, especially as they will be built to order - here's hoping that a wealthy Kiwi with a tasted for import motoring madness secures one.